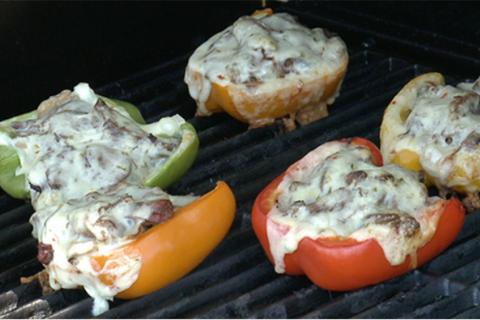 Bell peppers are great for stuffing meat, rice, and, of course, cheese. Check out this delicious Philly-Asia fusion of flavors coming together in this cheesesteak-inspired duck dish recipe. 
Prep Time: Overnight + 15 minutes, Cook Time: 30 minutes, Servings: 4-6
Duck Stuffed Peppers Ingredients
4-6 duck breast halves, skinned
Cabela's Thai Ginger Teriyaki Marinade
2-3 bell peppers
1 medium onion, sliced thin
½ lb fresh mushroom, sliced thin
8-12 slices pepper jack cheese
Directions:
1. The night before you plan to cook, place the duck breasts in a zip-top plastic bag set inside a large bowl. Pour the Cabela's Thai Ginger Teriyaki Marinade over the top of the breasts and seal the bag. Place the bag in the refrigerator to marinate, massaging the bag every few hours to ensure all the breasts are evenly coated with the marinade.
2. When you are ready to cook the duck-stuffed peppers, remove the breasts from the marinade and sear each one on a hot grill for two minutes per side. Once the breasts are seared, remove them from the grill and slice each one, crosswise, into ¼-inch thick slices.
3. Cut each pepper in half lengthwise and remove the core, seeds and white ribs. To assemble the duck-stuffed peppers, place one slice of pepper jack cheese in one half of a pepper and fill with onions, mushrooms and several slices of duck. Assemble remaining peppers and cook on a hot grill for 15 minutes, until the peppers just start to get soft. Top each pepper with another slice of pepper jack cheese, and close the grill. Cook five minutes, or until the cheese has melted. Enjoy!