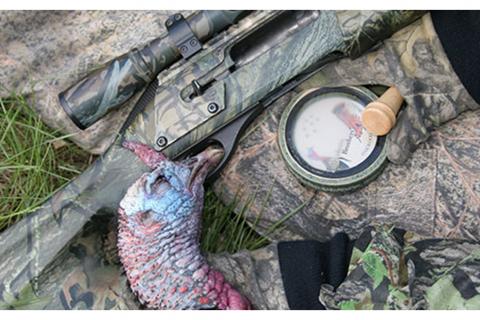 Many turkey hunters don't believe they need a scope to make an accurate shot at a bird only 30 or 40 yards away. That's especially true for long-time shotgunners skilled at hunting ducks, pheasants, doves, rabbits and quail.
But the typical sight on a shotgun isn't very good for the precise aiming needed in turkey hunting. Many shotguns have only a front bead sight, with no rear sight, and that can make for difficult shooting using an ultra-full-choke turkey gun.
However, a scope makes a turkey hunter point and precisely aim, concentrating intently on making an accurate, clean shot.
Many old hands with shotguns want to shoot a turkey with both eyes open like they're gunning quail or doves. Also, not all experienced shotgun shooters tuck a stock in tight to their shoulder and keep their check down on the stock. This might be OK in some types of wingshooting, but for turkeys you have to stay down and aim, or you'll miss.
A scope makes a hunter shoot a shotgun more like a rifle than a scattergun, which is exactly what is needed for turkey hunting.
An important plus for a scope is that it's easy to sight in, which is important when patterning a smoothbore.
Change shot size, load or size shell for turkeys, and odds are good your pet shotgun will pattern pellets in a completely different way. But with a scope, all you need to do to make the pattern hit where it's suppose to is dial it in with scope adjustments.
A good solid scope mount is imperative for accurate shotgun shooting.
Shotguns specially made for turkey and deer hunting often are drilled and tapped for scope mounts. Some even have dove-tail receivers to accommodate scope mounts.
But many die-hard turkey hunters prefer to use their old, proven flying-bird shotguns that don't readily accept standard scope mounts.
For such guns and hunters, a couple of companies offer solid scope mounts that can be easily put on and taken off, as turkey season comes and goes. Such mounts attach quickly with screws or pins, making any such shotgun a serious turkey tamer, then can be removed after the season without permanently altering the looks or feel of a wingshooting firearm.
Most turkey scopes are low-power, since shots are made at close range.
Many savvy shotgunners who use scopes for longbeards prefer 2X magnification, because this gives a large field of view in a bright, light-gathering optic. Some hunters prefer turkey scopes with 4X power, and ones with variable 1.5X to 5X are good, too.
There are turkey scopes that have no magnification at all, offering only a highly adjustable sight that centers even the most wayward pattern.
Scopes for turkeys make sense not only because they reduce crippled and lost game, but they also make for safer hunting. Clearly identifying a turkey target in gray light of dawn or dusk goes a long way in preventing shooting accidents, which is reason enough for mounting a scope on a shotgun for turkey hunting.