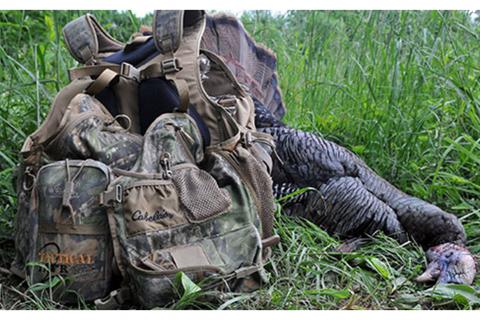 If you are a gear junkie like I am, with an OCD-like obsession for organization, the Cabela's Tactical Tat'r 2 Turkey Vest just might be what you are looking for.
In terms of organization, the Tactical Tat'r 2 has room for everything a turkey hunter could ever need.
The vest has pockets specifically designed for box calls, slate calls, strikers, diaphragm calls, water bottles, electronics, spare batteries and more. It even has an alligator clip strategically located to hold a scratch or scour pad to roughen up slates.
In addition to the front storage pockets, the Tactical Tat'r 2 has an extra-large game bag that can hold decoys, raingear or tagged birds. This game bag has an easy-to-clean interior and a removable blaze orange panel for safety.
If you can't fit it in one of the pockets in this vest, you might want to rethink what you really need to carry, as this vest has room for everything just short of the kitchen sink.
In terms of construction, the vests shell is made from quiet and lightweight 7-ounce cotton/polyester twill that can withstand the elements.
The vest is fitted with a 3-inch-thick memory foam seat that quickly folds down and back up out of the way, and makes long sits easier to endure.
Having personally used this vest during my quest for the grand slam, I can attest to its durable nature and its ability to allow me to carry heavy loads comfortably over long distances because of the thoughtful weight-distribution design.
If you are looking for a vest that will perform in a wide variety of scenarios, the Tactical Tat'r 2 is the vest for you.
The Tactical Tat'r 2 is available in One Size Fits Most, in HTC Green camo.