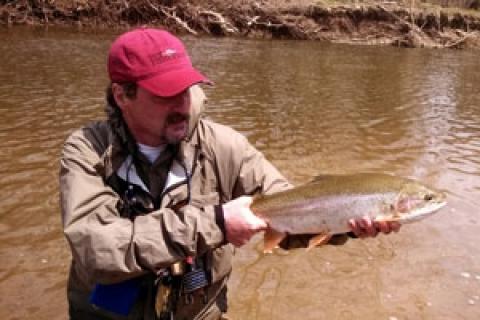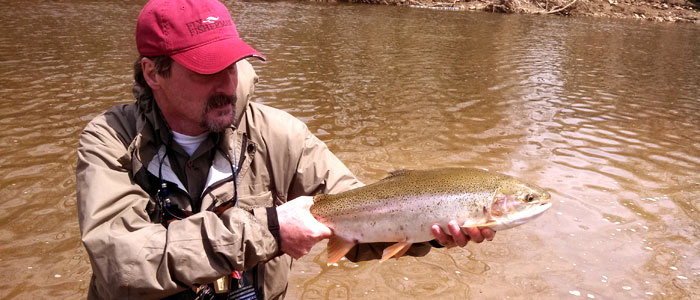 Jeff Blood with a steelhead caught on an egg-imitating fly.
Though they lack the glamour of a dry fly and the rich tradition of a wet fly or nymph, egg-imitating flies are one of a fly fisher's most productive offerings.


While the three trout species of which I am most familiar — browns, brooks and rainbows — make good use of eggs at various times over the course of the year, it's the latter that seems especially susceptible to egg patterns.


Take for instance a late season steelhead trip I made last month on a Lake Erie tributary. Typically the steelhead run would have been concluded by then, but following a severe winter, which packed many stream mouths with ice and delayed the arrival of spring-run fish, there were still a lot of fresh steelhead in the streams in early to mid May.


I had the good fortune that day of fishing with Jeff Blood, a seasoned steelhead angler of note. He rigged me up with a two-fly setup that placed a single-egg pattern fly at the end of the leader, and then a white Zonker streamer on a four-foot dropper tied to the hook bend of the egg. The rigging is meant to present the egg fly, and also a trailing minnow-mimicking streamer. The look of a minnow (represented by the streamer) — in a position suggesting the interception of the egg — often will invoke a predatory response from a steelhead. Both Blood and I had many steelhead hookups; the majority of which were fish that took the egg.


A week or so later I was on a stocked stream a few minutes from my home. I was fishing a special regulations area where tackle is limited to flies and artificial lures only. The local Trout Unlimited chapter adds a significant number of fish to what the state agency stocks.


The water was a bit up and off-color as I eased into the stream, seemingly perfect streamer conditions. But after 15 quiet minutes of working a pool I felt confident held plenty of fish, a change was in order. An egg fly from the steelie trip was still on my drying patch. On impulse I tied in on, along with a Hare's Ear Nymph. During the next couple of hours I enjoyed exceptional sport as the fat rainbow stockies took the egg pattern, ignoring the nymph.


I've revisited that stream section a couple times since then. Each time the egg pattern has been my best producer on the stocked rainbow trout.