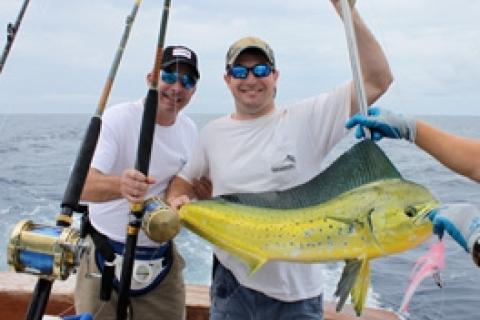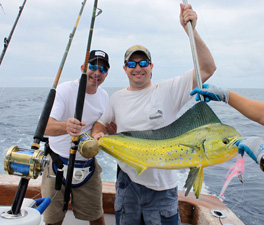 When the calendar reaches May, it signals to bluewater anglers in South Carolina that migratory dolphin will return offshore. Dolphin are the one of the most pursued pelagic fish in the ocean and have the affectionate nickname of Mahi Mahi. Desirable both for their fighting spirit and their excellent table fare, they motivate many anglers to troll for them all during the summer months.
A dolphin can be found almost anywhere in the bluewater but anglers know to fish for them in areas that have some surface debris like a weedline or clusters of flotsam and jetsam. Everything from teenager dolphin to big bull dolphin can come from underneath a single piece of driftwood, so its best to mark any such object on the GPS and troll by it again later perhaps. Look for color changes in the ocean that signal temperature variations that attract both baitfish and gamefish.
With the average dolphin under 15 pounds, others may range in the 30- to 40-pound class, with 50-plus pounders not unheard of. The bright green and yellow colors that mark their flesh, including small blue spots all along their bodies, make them a favorite subject of photographers. The large blunt forehead distinguishes the larger males, also known as bulls, from the rest of the pack.
Dolphin are voracious and will feed on just about anything and are thought to be one of the fastest-growing fish in the ocean. Trolling for them is the most common method of fishing, with hungry dolphin consistently eating ballyhoo, live baits and even artificial lures. Sporting anglers may break out the fly rod and tempt a few of the smaller "peanut" dolphin to bite their fly, setting off an aerial display and fight.
Dolphin fishing is an example of a sustainable harvest of our natural resources. Release the small ones to grow up and produce more fish, and keep the bigger ones for some really fine table fare. The small dolphin are hearty enough to be tagged before release and the Dolphinfish Research Program led by Don Hammond keeps track of any survivors that are caught again later, providing data about their migratory journey in the ocean.
When the dolphin are present off the coast, the fishing can be so hot that it causes bedlam in the back of the boat. Tangled lines and frantic shouts of "FISH ON" are just a part of the frenetic mix that makes offshore fishing addictive. Dolphin numbers dip somewhat after the heyday of early May, but the increased presence of wahoo, tuna, sailfish and blue marlin will offset their departure. Still, the lure of fresh mahi mahi for supper is one of the best reasons to knock the rust off your fishing routine.