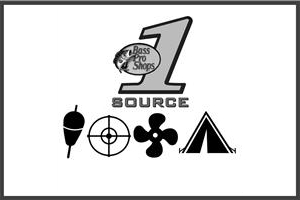 The wheels screeching on the runway woke me from my two hour nap. The plane, my third one for the day safely landed at Chicago's O'Hara airport. I have been traveling to Canada for more than 30 years and still get excited to pack my bags and head out on another adventure. On this recent trip I was fishing the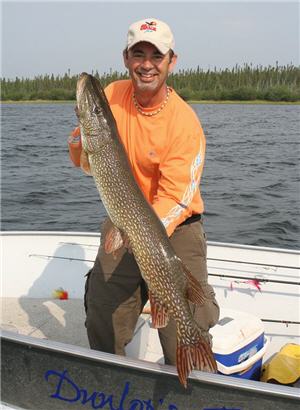 Jim Crowley in Canada with Pike.
Little Churchill river system in northern Manitoba, Canada. This has been a favorite destination of mine for many years as the Northern Pike that roam these waters grow very large and are extremely abundant. How I was to fish for them this time was different than previous trips. Let's look at how to find and fish for trophy pike during the post spawn period. It can be challenging as well as rewarding.
The Little Churchill River system is an expansive body of water that includes lakes Hail, Waskaiowaka, Pelletier and Campbell. Pike grow large in these water due to the topography as well as the forage base. Massive bays and main river weed growth hide these water wolves and thousands have been recorded in the Manitoba Master Angler records for anyone to see. A Master Angler pike has to be at least 41 inches to be included in these records. The forage bas includes, perch, walleye, suckers and bourbot. All these fish add weight and strength to these incredible fish. They grow large, aggressive and will give any angler a strong challenge if proper equipment is not utilized.
My most recent trip was the end of June and the Pike were moving out of the bays because they were done spawning and into the massive river system looking for main river weedy areas where they would hold up for the summer. The water is so clean and clear we saw numerous "trophy" pike swimming from the bays into the river throughout my 4 days of fishing. The problem we faced was every day the wind direction changed so it was hard to concentrate the big fish in any one area. They were constantly on the move following their food source. One day it might be small baitfish, the next day it could be walleyes so it was up to us to figure out a plan each day. Here is what we did.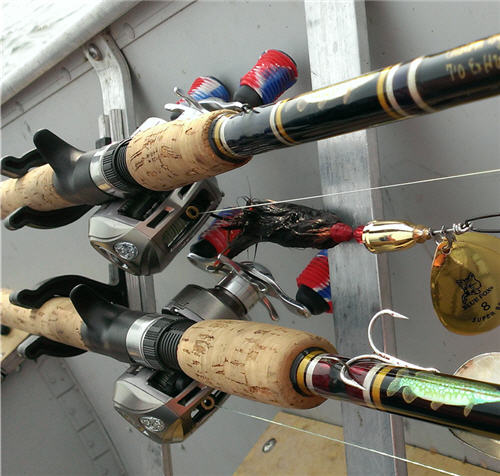 My equipment for fishing pike consist of 7' medium heavy to heavy Grandt pike rods. My reels are Bass Pro Shops Pro Qualifiers. The pro qualifiers are now made in 3 different gear ratios. A fantastic, durable and reliable reel I mostly use the 5:1:1 as it's fast enough for casting spoons but will not wear you out fishing buck tails. I spool up 40 Sufix performance braid, tie on a Terminator Titanium leader and I'm set for my lures of choice. Pike love wind and our plan was to fish windy rocky areas especially where we found any weed growth. The weeds were just starting to come up so any green vegetation was a good sign and always worth a shot. Some areas of the river were not as clear as the others so here are a couple lure choices I used. For extremely clear water I relied on an old favorite: A ¾ ounce Northland forage minnow spoon. A deadly spoon on big pike I have had numerous master Angler fish fall for this lure. When we fished areas that had more of a stain to it, I fished the new Blue Fox Super Boo. A double bladed buck tail that put off massive amounts of flash and movement its designed with one large rear VMC treble hook. This is a HIGH PERCENTAGE lure. Almost every strike on this lure ended up with a fish in the boat, including my largest of the trip and largest at the lodge that week a 45" fish that totally inhaled the lure.
Big pike on the move and in a post-spawn can at times be difficult to fish, however remember wind and weeds can put you in high percentage areas. Keep your lures wet and focus on every retrieve as big pike will follow lures and sometimes not strike. Remember that area and come back at them with either a different angle, lure or both. As with every time I fish the Little Churchill River system, I stay at DUNLOPS'S Lodge and Outpost. A fantastic place with professional guides, nice accommodations and incredible food. Oh yeah and the trophy fishing is off the hook! Check them out at www.dunlopfishing.com if you decide to go you can even e-mail me and I'll give you my equipment list that you can fulfill at your nearest Bass Pro Shops.
God Bless and best Fishes……….
by Jim Crowley