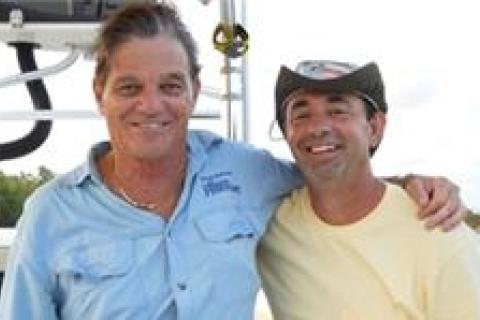 This year we lost one of the most innovative, creative and true lovers of the fishing world when we lost Doug Hannon. Working with WaveSpin Inc. I had the chance to fish with Doug last year. As a kid growing up I read every fishing magazine I could get my hands on. There were guys whose articles I would always learn from. Anything by Al Linder and In-fisherman, Fishing Facts magazine and Spence Petros and as I became a tournament fisherman and really got into bass behavior and habits, I started reading articles written by Doug Hannon. I remember him on Saturday morning fishing shows and his "Bass professor" segments. The underwater filming always intrigued me as well as gave me a lot to build on. Doug Hannon was more than a fisherman and there was a lot more to him.
Michael Paone was one of Doug's best friends and they spent a lot of time fishing together. "Doug was a complex guy, he loved a lot of things including salt water fishing, fly fishing, hunting, competitive shooting as well as writing. He wrote numerous books that have changed the way we bass fish." "He just wanted to make things better. Doug was an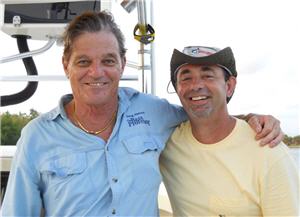 inventor, a genius who could bring his ideas to life." I know when I first met Doug several years back at an ICAST show, we were discussing the WaveSpin spinning reel. I had been fishing the reel for over a year and could not believe how much more time I was fishing and not fighting tangles and loops and knots in my line. Hannon pulled me off to the side of the booth and said, "Jim let me explain this spool design to you." He went on to tell me about how he came up with it, and why he did it. He wanted a better reel. Not one that cost more, just a reel that worked more efficiently. I have used the reel ever since and it's still the best spinning reel I have ever used.
Doug invented the weed-less trolling motor prop, advanced live well systems in modern day bass boats, the first camouflage fishing line and numerous other designs that he had a hand in.   In April 2012, I fished with Doug and Mike out of Boca Grande Florida for snook. They picked me up and we went first to Siesta Key to have lunch. We talked about all kinds of fishing and different places we had been too. I mostly just listened as these two "old friends" went back and forth at one another like guys do. It was a great time! Once we arrived in Boca Grande we hooked up with Captain Steve Bowler and we headed out.   It was an incredible trip as I boated a 14 pound snook with Doug Hannon standing next to me and telling me, "Good job Jim."
Mike spent countless hours fishing with Doug and because of that, he was often the victim of Hannon's practical jokes. Mike explains," So Doug and I are fishing and he is explaining the situation and ask to see my rod and reel, so I hand it over to him. Doug checks it over and hands it back to me. I make another cast get a bite and set the hook. As my reel spins out of control with no drag, I look back to see Doug with a large grin on his face!" "The last time Doug and I fished together we were on Lake Tarpon, I had lost 6 fish and Doug was lecturing me on sharp hooks. So he finally took my spinner bait and sharpened the hook which I checked. I found out later he is the one who un-sharpened it in the first place!"
Russ Riley is the president of WaveSpin Inc. Doug, Mike and Russ were like brothers and loved working and fishing together. Russ relayed this story to me about people who would ask Doug why he designed things the way he did. So I asked him, "Doug, why don't you answer these people when they ask you that?" Hannon looked me right in the eye and said, "Because it is an obvious answer, I designed my ideas that way because that is the way they work the very best. Why would I design or build something in a way that it did not work its very best?"   Then Doug just smiled at me and I understood why he never answered the question and had a nice little chuckle of my own. A typical Doug response, one could not help but love the man.
The day I fished with Doug and Mike we became friends. Mike and I hit it off right away and will fish together again in the near future. We talk either by phone, e-mail or text on a regular basis. We love to fish and talk fishing. Doug Hannon will always be the "Bass Professor" He had always seemed larger than life to me until I met him. Than he was another person who smiled like a kid with every fish he caught. According to his close friends he was one of the kindest, giving and one of the gentlest souls they ever knew. He truly wanted everyone to enjoy the sport of fishing as much as they could with everything he invented, designed and gave creative thought to. Doug Hannon will be missed but what he contributed to people's lives and the sport we all love will always live on as his legacy. God bless and best Fishes, Mr. Hannon………Fish on.
by Jim Crowley