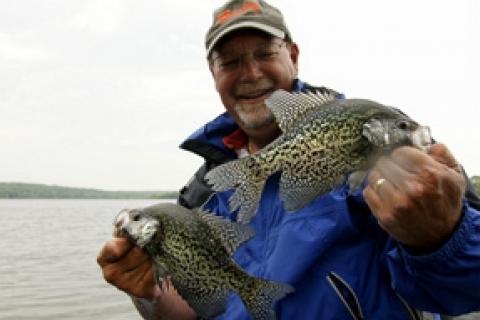 Summer's arrival will bring more than just warmer water temperatures. By now submerged weeds will be developed enough to serve as a significant draw to not only larger gamefish, but panfish as well. On clear water lakes, healthy strands of coontail and broad-leafed pondweed invite crappies, bluegills and yellow perch. While these fish will sometimes be located right along the edges of this cover, at times they will suspend out away from it a bit, perhaps to separate themselves from larger gamefish that may be holding on the edge.
Underspin jigs like Blakemore's Road Runner are ideal for covering these zones. Since the smaller versions are available in sizes from one-sixteenth to three-sixteenth ounce, an angler can tailor things to the conditions of the day. On a clear water lake that has weedlines out to 12 to 14 feet, start out with a heavier version, relying on the faster drop rate to allow the lure to reach greater depths in a reasonable time. On a darker water lake it may be necessary to go lighter, since the weeds only grow out to depths of 5-6 six feet.
Size matters as well in relation to the species present. Crappies have pretty big mouths, capable of accepting a larger lure.  Bluegills, however, have rather tiny mouths. If bluegills are the targeted species, and the lake or pond isn't known for holding bronco-sized 'gills, stick to the smallest baits.
Use a fan casting approach to work along weed edges and also open water areas that are within a cast's length of the outside edge. Approach the edges from different angles — pulling up close allows for casts parallel to the edge, while staying back provides a more perpendicular look.
Keep a semi-tight line on the lure's initial fall, since the bait will attract bites at this time. To keep an accurate picture of the depths you are working, count off the seconds you allow the bait to fall. Vary the drop durations, so you efficiently cover different levels.