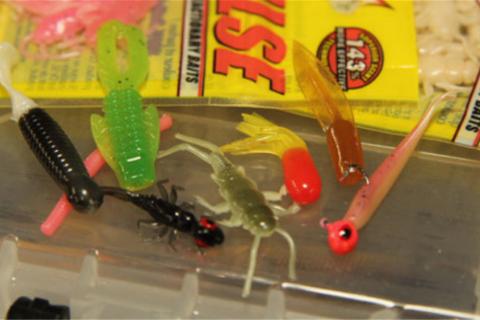 By Dan Johnson
Supple, scented soft plastics designed for ice-fishing catch fish all year long.
Many Northern panfish anglers fish supple plastic softbaits through the ice during winter.
Tip: Shop panfish lures at basspro.com
However, relatively few anglers reap the rewards of these artificial offerings' uncanny realism, lifelike feel and unparalleled convenience during the open-water season.
In fact, North to South, countless panfish anglers believe they need live bait such as minnows, worms and crickets to put panfish in the boat.
In reality, that's just not the case.
Improvements in designs, materials and actions make today's panfish plastics better than ever. And often are easily capable of out-fishing the real thing.
As a bonus, artificial bait banish the hassles of live bait. You don't have to drive around looking for a bait shop or spend time digging worms, and they never go belly up or stink up the minnow bucket or refrigerator.
Options abound, but a top choice is the Northland Fishing Tackle Impulse Jig'n Tail Slug Bug. The 1.25-inch bait is perfect for slab bluegills, crappies and yellow perch, and comes pre-rigged on a 1/64-ounce bug-eyed jighead for ultimate ease of use.
Infused with patented Impulse scents and flavors that attract panfish and encourage them to bite and not let go, the Slug Bug sports a soft, segmented torso, slugworm feet and a thin, wiggling tail.
Other great soft-plastic options include Northland's Scud Bug and Impulse Helium Series Stonefly Jig. Softbait icon Berkley also offers excellent tippings such as the PowerBait Whipworm and the Gulp! Ice Minnow.
To fish a dainty panfish plastic, rig it on a 1/64- to 1/16-ounce jighead such as Northland's Mud Bug, or a small Lindy Jig.
A long, light spinning rod of 7 to 11 feet, spooled with 2-pound-test line is ideal for dipping these small artificial presentations into brush piles and open pockets in thick vegetation. Cast and retrieve or suspend the jig under a small slip float.
When bobber fishing, avoid static, stationary approaches. Instead, cast out and then move the jig in a series of pulls and pauses to produce a seductive pendulum action. Do this by letting the bait settle, then pulling it a foot to 18 inches and letting it settle again.
If the bite gets tough, try wacky rigging a slender softbait on a size 8 hook. Flutter it freehand in front of panfish holding tight to cover or a breakline, or twitch it below a small float.
Armed with these baits and techniques, it's easy to kick the live-bait habit and catch more panfish on plastics all season long.