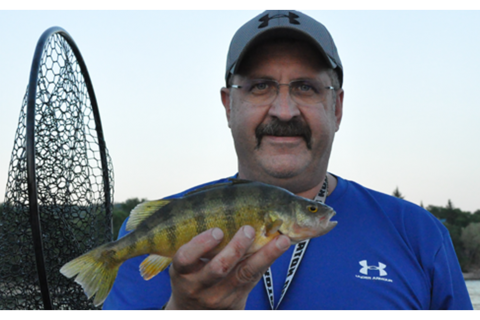 Early in the spring, anglers often catch perch in shallow water less than 10 feet deep.
However, as spring turns into summer, the shallow-water action for these little panfish tapers off. In order to continue enjoying the fun action and tasty meals perch offer, it's time to change fishing locations.
When the water starts to warm up, perch will head for deeper water areas, in the 20 to 25 foot range. The best deeper-water areas include ledges, drop-offs and deep holes, especially those with muddy bottoms. Perch will also move to deep-water areas with rocky bottoms.
Using your electronics, slowly troll along until you can locate a school perch.
While looking for perch on your electronics, focus on the bottom of the lake. Because perch are small, it is difficult to see single fish, so look for schools of perch which will look almost triangular in shape.
Another method for finding perch is to troll a small worm tipped spinner rig with a bottom bouncer until you catch some.
After you locate them, it's time to anchor up and do a little vertical fishing.
Small jigs and jigging spoons tipped with leeches, chunks of night crawlers or minnows seem to work best.
Experiment while jigging to see what triggers the perch to bite. Sometimes they want to take the bait off the bottom and on other occasions they might want to hit a bait that is suspended 6 to 12 inches off the bottom. In either case, periodically bang your lure on the bottom to attract the perch by creating sounds and stirring up sediment.
When the summer weather gets extremely hot, I have found perch will suspend at mid-depth levels over very deep water. The depth where they suspend is often in direct relation to the thermocline, and they are usually in the thermocline or just on the upper edge of it.
During these times, perch can be caught by slowly trolling small crank baits.