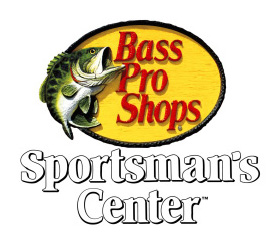 Bass Pro Shops to Open New Sportsman's Center
in Cary (Raleigh), North Carolina

Cary, N.C. — Bass Pro Shops, America's most popular outdoor store, has reached agreement to locate a new store in Cary (Raleigh), North Carolina.  The NEW 105,000 square-foot Bass Pro Shops Sportsman's Center will be located at the intersection of I-40 and Harrison Avenue in Cary and is scheduled to open in late 2013 or early 2014.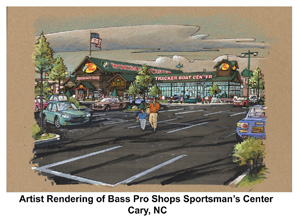 The Raleigh-Durham-Cary region is very popular with tourists with nearly 12 million visitors a year.  The area enjoys a rich history in outdoor sports and history and is ranked 6th in the number of anglers in the United States.  More than 1.4 million people hunt or fish in North Carolina making it the 9th ranked state in overall participation in the United States.
"We are very excited to bring Bass Pro Shops to this premier site in Cary and to be a part of this great community," stated Johnny Morris, Founder of Bass Pro Shops. "This highly visible location is easily accessible and will allow us to bring Bass Pro Shops' low prices and famous friendly, expert service to better serve the many sportsmen and women as well as the millions of visitors to the Raleigh area each year," Morris continued.
Nationally, Bass Pro Shops will host over 120 million people visiting their 77 stores and marine centers across America and Canada this year; the average customer stays 2 ½ hours and drives an average distance of 50+ miles.  Bass Pro Shops was recently named by Advertising Age magazine as one of the Top 10 Hottest Brands in America along with name brands such as Old Spice, M&M's, iPad and Droid.  Also, Bass Pro Shops has been recognized numerous times for their conservation and outdoor education efforts, as well as being recognized by J.D. Powers & Associates for their customer service excellence.
"The Town of Cary is pleased to welcome one of our newest corporate citizens Bass Pro Shops," said Town of Cary Mayor Harold Weinbrecht. "As one of North America's renowned outdoor retailers they have a strong reputation for quality products and services that will serve Cary's active and fit community well. Their leadership in environmental stewardship will be a great fit with Cary's sustainability initiatives. We look forward to all Bass Pro Shops bring to our community and wish them much success."
Bass Pro Shops' unique, award-winning, mega-sized outdoor stores are known for combining retail with entertainment, conservation and outdoor education. More than just a fishing and hunting store, the Bass Pro Shops store will also offer equipment and clothing for hiking, backpacking, wildlife viewing, camping, outdoor cooking and more.  A gift and nature center will also serve up a wide variety of outdoor-related items from lamps and dishes to bird feeders and furniture.
The expansive boat showroom will feature Tracker, Nitro, SunTracker, Tahoe, Grizzly and Mako boats built by Tracker Marine Group, the world's largest manufacturer of fishing boats.
Bass Pro Shops' unique exterior and interior motifs have branded them as visually appealing, high quality outdoor stores. The outdoors feel is brought indoors through massive log and rock work, large indoor aquariums and water features stocked with native fish species as well as an extensive collection of museum quality fish and wildlife mounts.  Historic photos and exhibits will pay tribute to the regions great outdoor heritage.