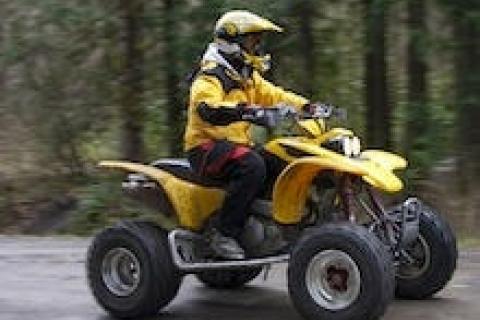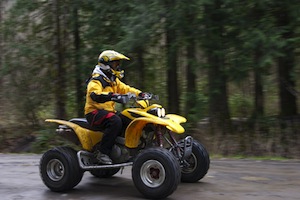 Some outdoor enthusiasts enjoy Mother Nature by treading lightly along a scenic trail in their hiking boots, stopping occasionally to admire flora and fauna, a fiery sunrise or sunset. 
Others like to shred those trails at high speeds, only stopping to refuel. 
For the second group of people, the seat of an all-terrain vehicle -- equipped with ATV gear and accessories -- is the best way to enjoy the great outdoors. Here are 3 trails—located across the nation—for the adrenaline-fueled ATVer to enjoy, whether it's singletrack in West Virginia's dense woods or sandy dunes that tower on Oregon's coast.
Hatfield-McCoy Trail—West Virginia
At 600 miles in length, the Hatfield-McCoy in West Virginia is a sprawling trail system that features ATV-friendly towns along the way, making it ideal for day-long or multi-day excursions. It includes 8 trails, from the difficult singletrack Bearwallow to the easier green trails of Pocahontas. Located in the region where the infamous Hatfield-McCoy feuding took place, the trails are also rich repositories of American history. 
Required permits cost $26.50 for West Virginia residents and $50 for non-residents. To plan your trip, check out this interactive map. And be sure to visit nearby Bass Pro Shops stores in Ashland and Hampton!
Red Feather Lakes—Fort Collins, Colo.
Red Feather offers riders more than 100 miles of 9 rocky, doubletrack ATV trails. The difficulty of these trails is diverse: They range from 2 (easier) to 9 (very difficult). Elevation ranges from 9,000 to 11,000 feet. (Note: Not all sections of these trails are open to ATVs; be sure to check area signage as you ride.) 
For more information, check out Colorado's Stay the Trail site. In addition, be sure to visit the Denver Bass Pro Shops and be on the lookout for two more Colorado stores to come in Colorado Springs and Loveland!
Oregon Dunes—Reedsport, Ore. 
Traversing these wind-swept sandy dunes, which rise 500 feet above sea level, offers an exhilarating change of scenery for the typical ATV rider used to wooded trails. Each year, thousands of ATV riders descend on this off-highway vehicle mecca. The trail whisks riders along 40 miles of Oregon's beautiful coast. 
To plan a trip, visit the City of Reedsport site.