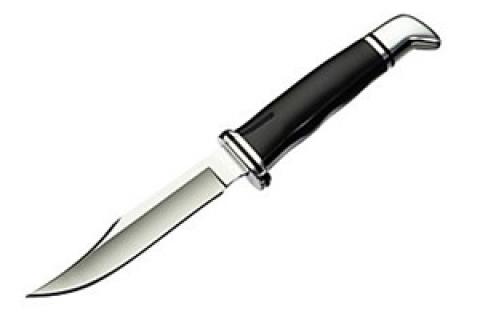 A few decades ago, a specific knife style became popular for not only avid outdoorsmen and women, but also for thousands of youngsters and adults interested in a survival tool — the survival knife. Multiple companies produced good ones and bad ones. The big feature was the hollow handle and the numerous survival items the handle could store. Matches, fishing line, hooks and other stuff, capped off with a lid that was topped with a compass.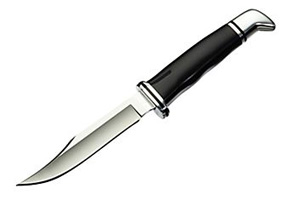 For sturdy, simple use in the outdoors, the author recommends fixed blade knives.
The survival knife became a fad of sorts, but as all fads, the handle-filled-with-stuff knives became a rarity. But that doesn't mean a knife alone is not an important survival tool. Actually, a knife should be attached to each hiker's pack or belt. You just never know when a sturdy blade can assist on the trail.
Shopping for a knife for hiking or camping will reveal a plethora of options. But one style stands out, and that is the fixed blade knife. Sure, there are dozens of multi-tool knives available and those work fine also, but as a simple and sturdy blade goes, it's tough to outperform a fixed blade knife for trail or campsite duties.
The first feature to look for is the blade itself. About a 5-inch blade is all that is needed, and one about at least an inch wide. A narrow blade may snap when the knife is used as a plying tool.
A preferred blade includes two edge finishes: straight and serrated. A straight edged knife can cut the same materials that a serrated blade will but with much more effort and time. Cutting through bone or tree branches begs for a serrated edge. The knife point should be a spear or drop point, which provides a sturdy point for heavier tasks, but yet a point fine enough for tedious jobs such as removing a splinter from a finger.
The steel should be no less than a 440 gauge, which is important in holding an edge. Several steel recipes are used by major knife makers that increase the hardness of the steel and the ability to easily and quickly sharpen the blade. Most knives are carried afield without a sharpening stone or other knife sharpening device, so selecting a blade that holds an edge after some use is key. Although, a stone plucked from a creek bed will work as an impromptu sharpener.
The fixed blade knife's handle is as nearly important as the blade. Handles come in various shapes and made of various materials. I prefer a poly or synthetic handle over leather or laminated. The synthetic handle doesn't slip while in use, especially during wet and cold conditions. If possible, hold a prospective knife in hand, or at least focus on the shape to ensure the handle fits your hand well.
For more on outdoor gear, read Bass Pro 1Source outdoor gear blogs.