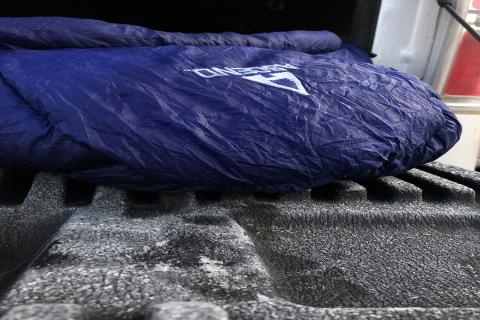 I knew that I made the right decision, as I laid there warm and surrounded by deposits of small white ice crystals that neighbored my makeshift bed watching the cloud of my crisp breath fade away.
While only months earlier, I was holding the Cabelas' 20º Ascend Hoodoo Mummy Bag in my hands for the first time - I was now confident enough in its performance to permanently add it to my gear list for the 2019 season.
Choosing the right sleeping bag can be overwhelming because it's one of the most essential pieces of gear a person can have. Too large or heavy of a sleeping bag makes it miserable to pack and too light of a sleeping bag usually means that you have some long, cold, miserable, and potentially dangerous nights ahead of you.
In my personal life and outfitting business, I ask a lot out of my sleeping bag. It needs to be pliable enough that I can cinch it down tightly in a panyard for my trips on horseback. It needs to be rugged, and light, enough to brace the elements when carried on the outside of my backpack. Most importantly, it needs to have enough down to keep me cool during the summer and warm during the winter.
Finding a sleeping bag on a budget that meets my requirements is a tall order. It wasn't until I learned how to incorporate other products into my sleep system that made it so I could get the most out of a sleeping bag and in some cases, push them to their extreme limits.
When adding anything to my gear list, I always refer back to size, weight, and necessity. While I'm a stickler about weight, I've learned that the quality of sleep far outweighs the quantity of sleep. Because of this, I always carry a few extra ounces amongst the following gear to ensure that I get a full night of rest so I can perform at my best the next day.
• Sea To Summit Light Air Sleeping Mat (packed size: 3.5" x 6.75" | weight: 18 ounces)
• Sea To Summit Aero's Ultralight Pillow (packed size: 2" x 2.8" | weight: 2.1 ounces)
• Cabelas' 20º Ascend Hoodoo Mummy Bag (packed: 8.5" x 14.5" | weight 3lbs 8 ounces)
Depending on the time of year, a tent doesn't always make it into the necessity category. But, I have to say, that was a slowly acquired taste.
Overall, I would recommend the Cabelas' 20º Ascend Hoodoo Mummy Bag to just about anyone. It's affordable at only $89.99, it's lightweight enough to outshine other sleeping bags in the same price range, and its performance rivals other brand-name bags that I frequently use.
Your rest and safety isn't anything to gamble with. I've used this sleeping bag in a variety of different elements and temperatures and trust that it will perform the exact same for you.