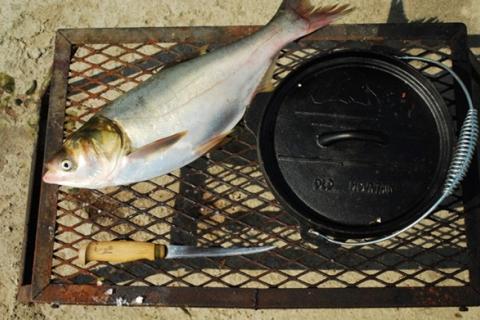 The Asian carp invasion has swept over the United States like the Biblical plaque of locusts. In a mere 30 years the invasive species has spread from a few individuals in an Arkansas pond to millions of fish, which are a bane to every major waterway from Pennsylvania to Montana.


Asian carp are prolific feeders, sifting plankton from our waterways and interrupting the normal feeding pyramid and stressing our natural fish populations. It seems impossible to stop the spread of these dreaded fish. However, a few entrepreneurial folks have begun seining the plentiful fish populations to provide a food source to Asian markets. Offal is turned into fertilizer.


Bowfishermen have made great sport of shooting the fish with arrows as  they hurl themselves out of the water as a boat passes. Although this activity is great sport and growing rapidly, the combined kill doesn't make a dent in the population.


Americans need to adapt to eating the Asian carp, which is tastier than the German carp. Asian carp have a strip of firm, white meat down either side of the spine, which is easily removed. The meat is tasty when fixed like any other fish, whether fried, baked, canned or included in chowders.


I have discovered that I can harvest many more fish by driving my boat around in likely looking spots. I learned by trial and error that Asian carp like to hang out in the greenest water on the big rivers, including the Missouri. The slack water behind wing dams is a key place to check. Once such spot I ran my boat through last year produced 27 silver carp in the boat in less than a minute. I had Asian Carp-Potato Chowder on the sand bar that night.


Try this recipe and you may become a regular Asian carp chaser and help conserve our native fish species.


You will need for Asian Carp-Potato Chowder
2 tablespoons butter
6 scallions, or 1 large onion
2 stalks celery, coarsely chopped
2 garlic cloves, minced
3 tablespoons all-purpose butter
2 8-oz. bottles of clam juice
1-2 pounds of new potatoes, scrubbed and cut into 1/2-inch pieces
1 cup whole milk
Coarse salt and ground pepper
Preparation
Melt butter over medium heat. Add onions or scallions, celery and garlic. Cook until tender, about 2 to 3 minutes. Add flour and stir to coat ingredients. Add clam juice and 2 cups of water and whisk until smooth.


Add potatoes, thyme and bay leaf. Bring to a boil. Reduce to simmer. Cook until potatoes are tender when touched with a fork.


Add silver carp, cubed into 1/2-inch pieces. Cook until fish flakes, about 10 minutes. Pour in the milk and cook until heated through. Remove bay leaf. Season to taste with salt and pepper. Serve immediately while still steaming. Best enjoyed on the banks of your favorite big river.