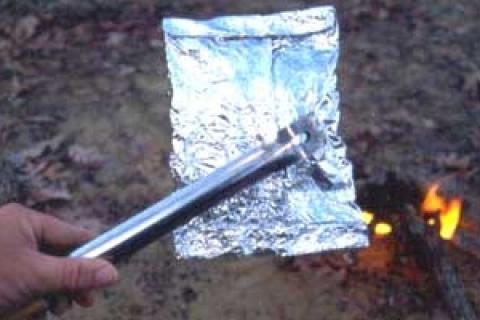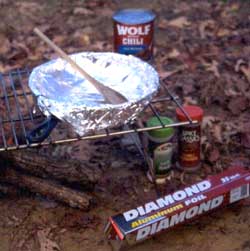 Aluminum foil is the outdoorsman's "kitchen in a pocket." Using foil allows the camp cook to dispense with carrying and cleaning heavy, bulky camp cookware. Stick a flattened roll in your pack or a folded sheet in your pocket and use it to cook a variety of foods, including fresh game and fish. Fashion it into a container for boiling water or heating condiments. Make it into a drinking cup or makeshift frypan, or use it to reflect heat from your fire. Create a windbreak to start the fire, or line pots and pans to reduce cleanup time. Foil is inexpensive, readily available, convenient and easy to use.
Among hunters and fishermen, foil is most often used to prepare sealed packets of food to cook on campfire coals or a campsite grill. Heavy-duty aluminum foil is preferred, because it is thicker and less likely to be punctured. If lightweight foil is all that's available, however, it can be used in double or triple thicknesses. Wrap the food so the duller side of the foil is on the outside.
One of the most important facets of foil cookery is sealing the food packets tightly in order to retain steam and juices, and, at the same time, to exclude dirt and ashes. This is accomplished by using a "drugstore" wrap.
Tear off a piece of foil about twice as long as you want the completed food package to be. Lay the foil flat, place the food on top, and fold the foil in half so the food is between the folded pieces, near the fold. Then, beginning at the place where the two end edges meet, make a fold of about 1/2 inch and firmly press this, sealing the seam. Then fold the seam over two more times, 1/2 inch at a time, and press to seal. The two open ends are then sealed in the same manner, and the packet is ready for the cooking fire.
When cooking meats and fish, seal the packages so there is very little or no air space between the foil and the food. Close contact between food, foil and fire helps brown the food. In cooking vegetables or other foods, however, it may be preferable to "tent" the foil over the food. The extra air space allows the package to act somewhat like a pressure cooker, steaming the food until it is done without browning it. One or two tablespoons of water or liquid condiments added to each package enhances the flavor and produces a more tender, moist meal.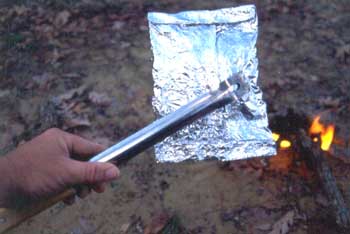 When cooking directly in campfire coals, add a second foil wrap over the first. This creates a package that's less likely to get punctured, letting dirt in and steam and juices out. Also, when you remove the outer wrap, the inside package will still be clean, and the opened foil can be used as a plate or serving dish.
The manner in which you place the food packets in the fire depends on the heat of the fire and how fast or slow you want the foods to cook. If the coals are very hot, place the foil packs on top of a few coals, turning when half-cooked; or position them beside the coals and tilt the broad side of the packets toward the fire using sticks or rocks to prop them up. If the coals aren't too hot, you may want to bury the packets in coals so there's no need to turn them.
Barbecue tongs or a long stick can be used to turn foil packets in the coals so both sides cook evenly, and to remove the packets from the fire when they're done. The foil cools fairly quickly when removed from the coals, but a pair of cloth gloves may prevent a blister or two when opening the packages. To open the food, tear or cut off the folded ends or snip the top and pull open. Use care so that steam escaping from just-opened foil packs doesn't burn your face or hands.
When properly cooked in foil, fresh fish or game is a special treat. The following recipes will get you started, but don't be afraid to experiment with your own ideas. Tasting new dishes created on your own is half the fun of foil cookery.
1. Spicy-Hot Deer Steak Foil Pack Recipe
Three 1/2-pound deer steaks, each about 1-inch thick  
1/4 cup soy sauce  
2 tablespoons lime juice  
1 tablespoon vegetable oil  
1 teaspoon ground cumin  
1 teaspoon chili powder  
1 clove garlic, minced  
3 drops Tabasco sauce
Pierce steaks all over with a fork. Mix remaining ingredients and pour over steaks placed in a zip-seal plastic bag. Seal and refrigerate 6 hours, turning occasionally. Remove venison from marinade, wrap in foil, and cook over campfire coals, turning once, until done to taste.
2. Foil-Broiled Bear Steak Foil Pack Recipe
2 bear steaks, 1-inch thick, about 1-pound each  
1 envelope dried onion soup mix  
2 potatoes, quartered  
2 onions, quartered  
2 stalks celery, chopped  
2 cloves garlic, minced  
2 tablespoons butter  
1/4 cup red wine
Place each bear steak on a large piece of foil. Sprinkle half the packet of onion soup mix over the top of each steak, then top each one with half the vegetables, butter and wine. Fold the foil securely to hold in all the juices, then place on a grill or campfire coals providing medium heat. Cook for 30 minutes, turning each packet several times to allow the juices to work through steak.
3. Campout Quail Foil Pack Recipe
1/2 cup peanut oil
1/4 teaspoon each:  
salt  
fresh-ground black pepper  
onion powder
dried basil  
dried thyme  
dried rosemary
dried parsley flakes  
8 quail  
3 tablespoons fresh-squeezed lemon juice  
4 English muffins, halved, toasted and buttered
Mix oil, herbs and spices.
Brush the birds with this mixture, and wrap each in heavy-duty aluminum foil. Cook on a bed of hot, gray coals, 10 to 15 minutes, turning once. Open the foil, sprinkle each bird with lemon juice, and serve on a buttered English muffin half.
4. Foiled Again Bass Fillet Foil Pack Recipe
20 saltine crackers, crushed to a fine meal  
2 tablespoons chopped fresh parsley  
2 tablespoons chopped fresh dill  
1/4 cup butter or margarine  
1 clove garlic, minced  
1/4 cup lemon or lime juice  
2 pounds bass fillets
Combine cracker meal, parsley and dill; set aside. Melt butter in a skillet and saute garlic 1 to 2 minutes. Stir in lemon juice. Brush fish with this mixture and place on a sheet of heavy-duty aluminum foil, shiny side inside. Toss remaining lemon-garlic-butter with cracker meal mix.
Spoon over fish.
Seal foil packet, and cook over coals 8 to 10 minutes, turning once, or until fish flakes easily with a fork.
5. Crappie With Provencal Butter Foil Pack Recipe
1/4 cup butter  
1/4 cup extra virgin olive oil  
2 cloves garlic, minced  
1/2 teaspoon thyme  
1/2 teaspoon rosemary  
4 crappie, pan-dressed (about 8 oz. each)  
4 (18-inch) squares aluminum foil
Melt butter with olive oil in a small saucepan. Stir in garlic, thyme and rosemary. Remove from heat.
Place each crappie on a piece of foil with edges folded up. Spoon butter mixture over each, wrap tightly and grill 6-8 minutes per side, turning once. Heat any remaining butter and serve on the side as a dipping sauce.
6. Striper Bass with Crabmeat Stuffing Foil Pack Recipe
 1 striped bass (about 4 pounds), pan-dressed with head on  
2 teaspoons salt  
1 teaspoon fresh-ground black pepper  
Crabmeat Stuffing (below)  
2 tablespoons melted butter or margarine  
4 slices raw bacon  
2 teaspoons chopped parsley  
1 lemon, sliced
Season fish, inside and out, with salt and pepper. Stuff loosely with Crabmeat Stuffing, close with skewers or toothpicks, and brush with melted butter.
Place fish on a large sheet of foil. Cover with bacon slices, wrap and seal. Cook on a grill or on hot campfire coals 1 hour or until fish flakes when fork-tested. Serve garnished with chopped parsley and lemon slices.
7. Crabmeat Stuffing Foil Pack Recipe
1 medium onion, finely chopped  
1/4 cup butter or margarine  
1 teaspoon salt  
pinch each thyme, basil, paprika and black pepper  
2 cups fresh bread crumbs  
1 egg, well-beaten  
1 cup cooked crabmeat  
Clam juice
Saute onion in butter until soft. Stir in herbs and spices. Blend this mixture with bread crumbs, egg and crabmeat. Moisten with clam juice.