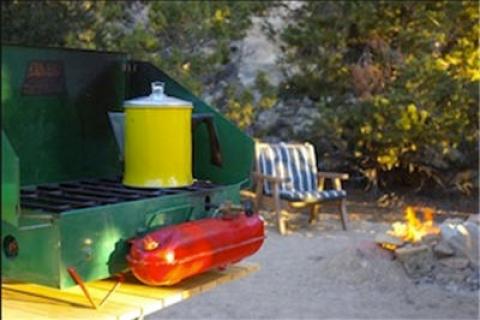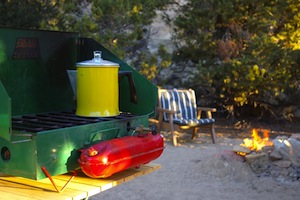 Camping food isn't just spam and instant potatoes anymore. 


With stories in Bon Appetit to Outdoor Magazine, the gourmet camp food movement is gaining steam. Just because you're camping doesn't mean you have to check your inner foodie at the campground guard station. 


With proper planning and equipment, you can eat like a king—or queen—the next time you're at the campsite. 


1. Plan your meals ahead. 
Granola and a spaghetti are excellent food items, but not necessarily together. To get the most out of your next camp dining experience, be sure to plan ahead. Instead of just hitting the campground general store after you check in, try devising a meal calendar for the duration of your trip, making a list of needed ingredients and hitting your usual grocery stop before you arrive. 


For excellent meal ideas, check out sites such as Dirty Gourmet, which features recipes for Skillet Fried Cardamom Donut Holes with Raspberry Jam and Coconut Curry Soup, and The Bald Gourmet, which has recipes for dishes such as Pork and Wild Mushroom Roulade and Sweet and Sour Brisket. 


2. Campfires are nice for s'mores and hot dogs, but consider investing in some heavy-duty camp stoves.
A proper grill can go a long way toward enhancing your camp food experience. Models such as the Coleman® Signature Outdoor Gear™ Propane Camp Stove/Oven can serve as an entire backyard kitchen, while simpler models exist, as well. A variety of camping stoves are available to meet any and all needs.


Also, a cooker such as the Bass Pro Shops® Stainless Steel 3 in 1 Combo can help you fry, steam and boil your favorite dishes. 


3. Don't forget the spices.
Gone are the days of dropping some salt and pepper on some sloppy joes and calling it good. Today's campers can enjoy a panoply of seasons and marinades to really make their favorite dishes pop. 


For starters, you can pick up a Hi Mountain Western Style Wild River Trout Seasoning for your next game fish or Southwest Specialty Foods® Kick Butt Hickory Rib Rub, which works with ribs, chicken or fish.