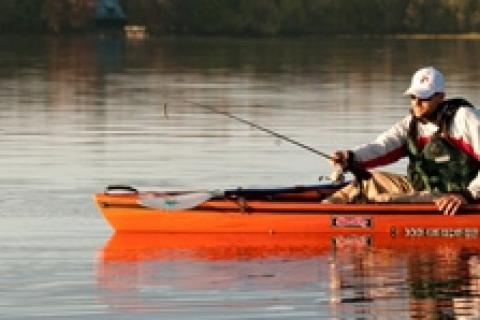 Whether you own a sit-in or a sit-on-top model, outfitting a kayak for fishing isn't much different than outfitting any other boat. The small size and storage limitations of these vessels usually create the biggest challenges when outfitting a kayak. But don't fret — there's plenty of gear to help turn your kayak into a full-fledged fishing machine.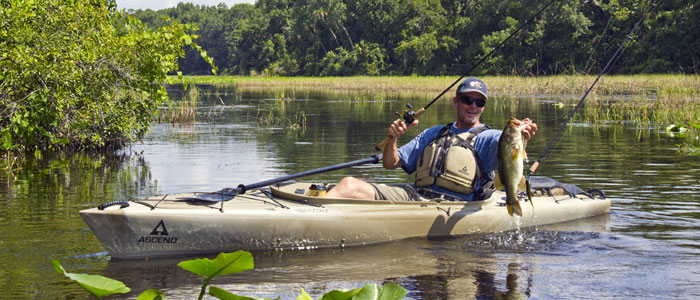 Fishing Rod Holder Are Critical to Kayak Angling

 
Since you can't hold a fishing pole while paddling, fishing rod holders are important to kayak anglers, and multiple holders allow you to bring several outfits.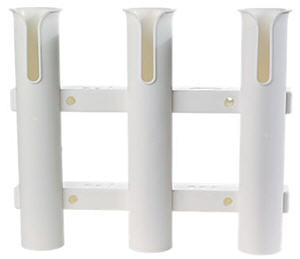 It's common practice to have one or two rod holders in front. Use removable holders so that you can take them out when not in use or during transport. Mount holders within reach, but don't mount them so close that they interfere with paddling and landing fish.
Most anglers will set up at least two rod holders behind the cockpit, placing one holder on each side. Flush mount holders work well for this application.
Another approach is mounting a fishing rod holder system, like Bass Pro Shops 3-Position Rod Rack, to a milk crate or office box. Secure the holder in place with stainless steel nuts and bolts or use zip-ties. Most sit-on-top kayak tank wells will hold a crate and bungee cords and will help keep the accessory secure when paddling.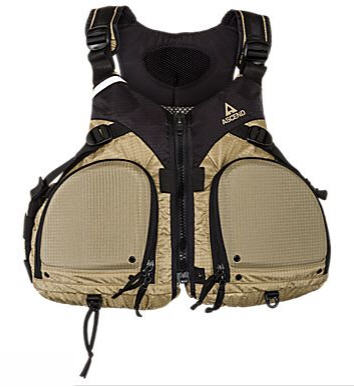 Flotation Life Vests Need Freedom of Movement
A kayak or canoe life jacket is a must. Kayak-specific designs allow for plenty of upper body movement so that you're not constricted when paddling or casting.
Tip: The Ascend Paddling Fishing Life Jacket is designed with drawbridge-style pockets creating fold-down workstations—a small yet game-changing design feature you'll enjoy with every trip.
Some flotation vests come with storage pockets — perfect for things like pliers, a tackle box or a portable VHF radio. Another popular option with many anglers are auto-inflatable vests, such as Mustang's Survival Deluxe Automatic Inflatable Life Jacket. The lack of bulk affords kayak anglers plenty of unrestricted movement in the boat.
Fishing Electronics for Your Kayak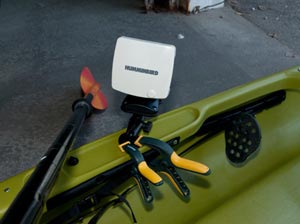 You can outfit a kayak with plenty of angling electronics. If offshore, a GPS unit is critical to safely navigating low-light or foggy conditions. GPS units are also handy for storing the coordinates of your favorite fishing spots. Get either a watertight portable unit or consider purchasing a GPS/sonar combo unit like the Garmin Striker 4 Sonar Fishfinder and GPS Plotter.
A fish finder is also valuable. Most fishing kayaks have console space for a small mount. If using a bigger unit, consider purchasing a RAM Mount or Johnny Ray mount to create a customized, adjustable set-up for your electronics. The transducer can be mounted to shoot through the hull.
Carry a portable, waterproof VHF radio if offshore fishing. Get a durable model with a good waterproof seal. 
Also have portable navigation boat lights like the Attwood XFS Portable LED Navigation Light for low-light times.
Storage in a Kayak
There is no shortage of options to consider for kayak angling. Use dry bags like the popular Ascend Heavy-Duty bag and secure them on top of the kayak with bungee cords to keep items dry.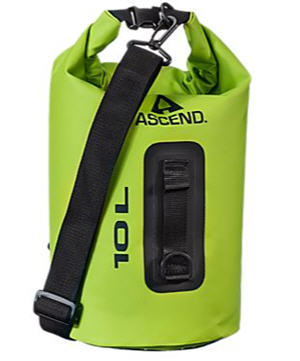 Packing gear in the bow and stern hatches also works. Use hard-plastic watertight containers to store fragile items. 
Kayak storage deck bags are another way to increase storage space. Deck bags have plenty of pockets and compartments to hold your tackle and gear. They easily mount on top of the kayak with bungee cords.
Other storage options include various kayak utility packs, soft coolers and small fanny packs. 
Tackle Boxes and Trays
It's likely you'll purchase a variety of tackle trays to hold fishing tackle. Some kayak cockpits come with spots to hold trays.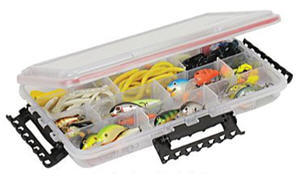 You can also carry small trays in your vest or in cargo pant pockets. Purchase watertight models to prevent your baits from getting wet, which can lead to rusty hooks. The Plano Waterproof Stowaway Utility Boxes are perfect for this task. 
Bait Bucket  
If bait fishing is your game, most fishing kayaks have tank wells with contoured notches to hold a bait bucket. Bungee cords are also standard on most tank wells to keep things secure on the water. A variety of bait buckets are available with plenty of features. The Frabill Aqua-Life Bait Bucket with Aerator is one example. An aerator is a worth while add-on to keep minnows and shrimp lively, and a dip net helps you capture bait easily.
Fishing Tools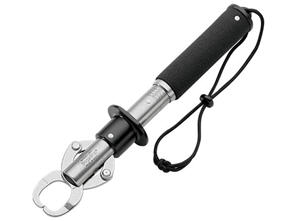 You'll want some fishing tools with you in your kayak. A lanyard is helpful to keep things like clippers, scissors, forceps and a hook file within reach. Carrying pliers or a multi-tool lets you quickly remove hooks from fish.
Fishing nets or other landing devices, such as a Boga Grip or a grip master, help when landing fish from a kayak. 
Kayak Anchor System  
A small boat anchor is an important fishing accessory. Use it fishing to stay put when fishing a specific piece of structure.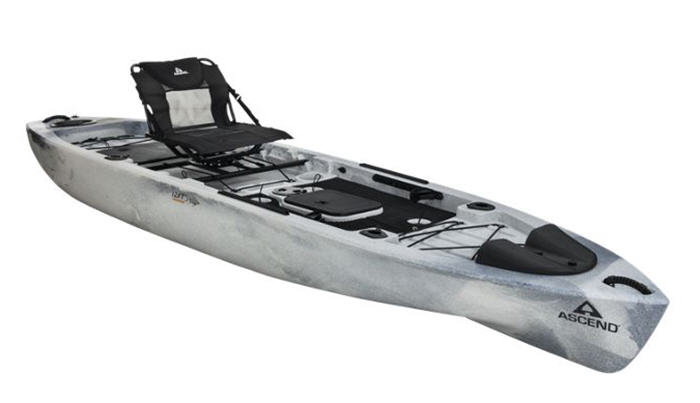 Sea anchors, also called drift socks, are useful to maintain boat position in windy conditions and rough water. To get the most from this device, be sure to install a kayak anchor trolley kit as these let you fine tune the position of the line for best positioning. 
Tip: The Ascend 128T Sit-On-Top Kayak is a unique fishing kayak that combines stand-up paddleboard characteristics with a sit-on-top kayak fishing platform. This kayak provides excellent stability whether you're standing, fishing, or paddling.
Safety & First Aid Kit in Your Kayak
Carry a safety kit in your kayak. Check on-the-water requirements for your state or province to determine what you're mandated to carry. At a minimum, though, you'll want the following: a marine whistle, signal (flare or mirror), bilge pump for small boats like the Attwoood hand-operaed bilge pump, bail or sponge, throw rope and a flashlight with working batteries.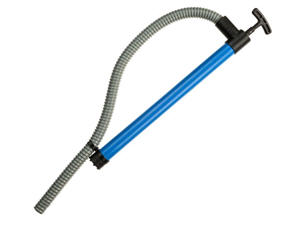 A small first-aid kit should be in your boat at all times. Store it in a water-tight container and keep it within reach. 
Tip: The Bass Pro Shops Hand-Operated Bilge Pump safely and easily removes water from small fishing boats and 2-man portable bass boats.
Pack a good assortment of products to protect you from the sun and insects. Use a small tote or container to carry the essentials, such as sunscreen, lip balm with an SPF rating and bug repellant. Make sure you pack plenty of water to stay hydrated.
Consider picking up a few of these items when you're rigging your kayak for fishing. They'll help keep you organized on the water, which should help you catch a few more fish this season.