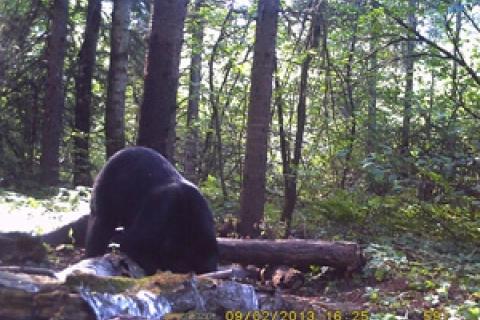 They say that you are never too old to learn something new, and I believe that applies to the world of hunting as well. I recently came across a couple of unique learning opportunities that I'd like to share with you.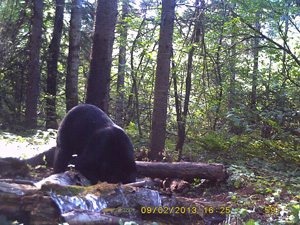 Hunting over bait can be one of the most effective ways to bag a big black bear. Photo courtesy of Arrowhead Wilderness Outfitters.
After winter loosens its grip on North America, spring black bear hunting season approaches. Where legal, hunting over bait can be the most effective way of taking a big bruin, as bears are hungry after a long winter of hibernation. But there's more to baiting bears than simply throwing out a few day-old donuts and meat scraps.
Arrowhead Wilderness Outfitters in Minnesota offers a five-day bear baiting school that teaches hunters how to bait black bears. Students work with guides to locate and prepare bait sites, place baits and gauge their success in attracting bears. They also teach you how to place stands and trail cameras for optimal viewing. Lessons are conducted on public land in the big woods of Minnesota. As there is no spring bear hunting in Minnesota, the school runs at the end of August, with students preparing real bait sites for actual hunts starting on the September 1 opening day. The school attracts students from all over the U.S., but only 4-6 students are taken each year, so space is very limited.
Another unique opportunity I recently came across is glassing lessons offered by Duwane Adams of Arizona Big Game Hunting. Adams has been guiding in Arizona for over 20 years and specializes in putting his clients on the monster mule deer bucks that his Kaibab region guiding area is known for. He's able to do this partly because he's pioneered a complete system of glassing, including the use of proper tripods and high-powered binoculars. His glassing lessons teach students not only what equipment to use, but how and where to find trophy bucks and bulls while they are feeding and in their beds.
I recently spoke with Adams, and he told me that he has taught people from all over the world, including some of the giants of the hunting and outdoor writing world, including Bob Robb, Dwight Schuh, Larry Jones, Wayne Carlton and my writing hero (although I've not yet had the pleasure of meeting the man) Craig Boddington. These glassing lessons are taught one-on-one and are offered year-round. Adams also offers an intensive and tough guide school for those serious about making guiding their career choice.
According to Adams, "Everyone is a good glasser, until they actually have to be." I certainly understand what Adams means, as I have excellent eyesight and have always fancied myself as having a good eye for game, and yet I am regularly put to shame by my hunting guides when it comes to spotting game at a distance. I think I may need to pay Duwane a visit myself.
There are other such learning opportunities out there, and I will look to cover more of them in the future.
Good hunting.