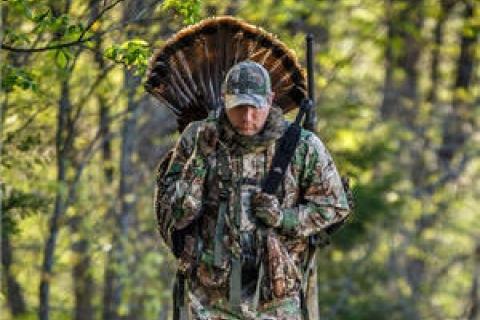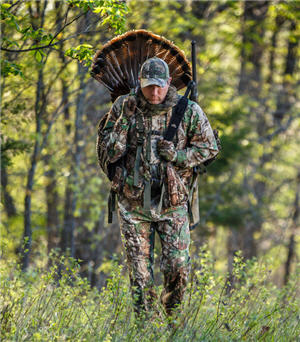 Get in shape for physically challenging hunts.
As I was trudging up another Missouri Ozarks hill, the words of my friend Butch McElwain popped into my head: "There's a big difference between being gym fit and mountain fit." Indeed there is. I've worked out at the gym almost daily for my entire adult life. Lifting weights? No problem. High-intensity cardio training? Bring it. Schlepping 15 pounds of turkey hunting gear uphill on a hot day? I'm dead meat


On the other hand, Butch, who owns Whitetail Creek Outfitters in Kentucky and guides out west every year, is the epitome of mountain fit. He's the kind of guy who doesn't break stride going uphill. Probably doesn't even notice the change in elevation. That's because he marries being gym fit with real world conditions. If he's out west, he knows he has to acclimate to higher altitudes, steeper inclines and the extra weight he'll be toting.


Most of us won't be trotting up a mountainside like Butch does. However, with the onset of prime hunting season, now is a good time to take stock of your field experience. How did you feel while you were running and gunning? If you were winded by just yelping on your box call, you might want to make a mid-year resolution to get in gym shape and mountain shape for fall hunting seasons. Or, if you're like the rest of us, you'll forget all about how miserable you felt and go fishing instead.


So, if you have no immediate plans to become an athlete, read the following tips and give yourself every advantage when you're in the field.


1) Give uncomfortable footwear the boot – 1000 gram Thinsulate boots are awesome if you're sitting in a deer stand in December. If you're turkey hunting in the Texas Hill Country in April, you'll feel like the last competitor to cross the finish line of a Tough Mudder. I recommend several pairs of hunting boots for every season and kind of terrain. You'll still feel tired going uphill, but at least you can make it to the top.


2) The clothes that make the hunter – Hunting clothes are no place to be chintzy. With all the new high tech fabrics that can keep you dry and comfortable, it makes sense to trade up. I took my own advice this year and stocked up on SHE Outdoor hunting apparel. Now I have high-performance insulated and noninsulated rain suits, lightweight hunting pants and shirts as well as cold weather apparel. While I'm not exactly scampering through the woods, I was able to get to where the turkeys were gobbling with enough energy to walk out with an extra 20 pounds over my shoulder.


3) Hunt smart – The first few days my husband and I hunted public land in Missouri, we got as far off the beaten path as we could, which meant walking several miles on hot, humid days. We wised up in hurry and confirmed via Google maps that we could boat to where the birds were and skip the death march.


4) Embrace your inner wuss – When I was young, I was all about being tough. Now that I've clicked past the half century mark, I have no problem telling my hunting companion that unless he is carrying a defibrillator, it will be best for both of us that I get to lollygag awhile halfway up the hill.


5) Water is the answer – It's easy to convince yourself to streamline your backpack or turkey vest by bringing the bare minimum of H20. That's a huge mistake. Nothing will make you feel more lethargic than being dehydrated.  Also, when it comes to snacks, you know that candy bar won't stick with you as long as nuts or beef jerky.


6) Be a party *** – If you're at hunt camp, it's tempting to stay up late to visit and enjoy some adult beverages. But, everything in moderation they say, especially if you intend to hunt like a rock star the next day.


7) Walk it off - Getting in hunting season shape doesn't have to mean smelly gyms, squat thrusts and tabata drills. Walking is a great form of exercise. So is riding a bike. Adding some weight to your routine and taking the hills by storm is a sure way to hunting more comfortably this fall.