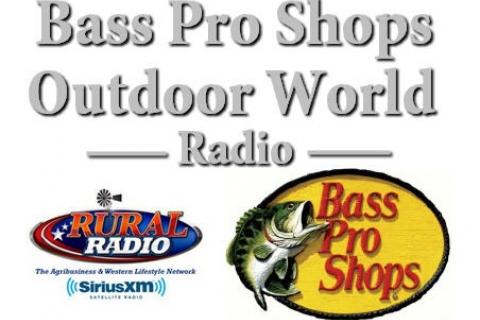 Stacey King, Bass Pro Shops/NITRO national fishing team member, talks about his career as a pro bass angler, including being recently inducted into the Bass Fishing Hall of Fame.The hour-long radio show airs Saturday, May 16, 2015 at 10 a.m. and 5 p.m. Eastern time on RURAL SiriusXM Channel 80.


Steve Mason, product development for Tracker Marine, shares news about two new Tracker aluminum fishing boats. The feature packed 2016 TRACKER Pro Team 195 TXW is designed for anglers who are hitting the tournament trail while the 2016 TRACKER TARGA V-20 WT fishing boat is ideal for big water angling.

Each week, Bass Pro Shops Outdoor World draws upon outdoor experts from across the country, including those within the Bass Pro Shops family. Show host Rob Keck, Bass Pro Shops' director of conservation, and his guests to provide listeners with the latest information about hunting, fishing and wildlife conservation. Shows air every Saturday at 10 a.m. and 5 p.m. Eastern time on RURAL RADIO's SiriusXM channel 80. 


Bass Pro Shops operates 92 retail stores and Tracker Marine Centers across America and Canada that are visited by more than 120 million outdoor enthusiasts every year. Each store is designed to reflect the local area's outdoor traditions and offers an authentic outdoor shopping destination. For more information, visit Bass Pro Shops.