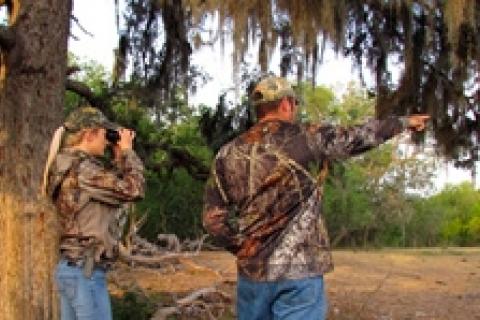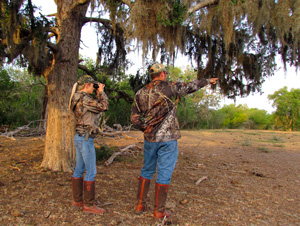 If your significant other expresses interest in hunting, there are several ways you can make the experience a great one. (photo courtesy of queensofcamo.com)
I'm sure many guys wish that their "significant others" shared their passion for the outdoors. Let's face it, avid hunters spend a lot of time away from home, and many of us often hunt alone simply because we don't have anyone to hunt with. If your better half has expressed even a bit of an interest in joining you in the field, here are some ways to nurture that interest.
Information overload. As veteran hunters, we are fountains of information, but resist the temptation of trying to impart all of that knowledge to someone new all at once. It can be overwhelming and intimidating. Let her learn at her own pace, especially when it comes to taking the necessary hunter safety courses to get her first license.


Start easy. Don't make your first outing together a grueling alpine hunt for mountain goats. Start with something relatively low-impact, such as turkey hunting or early-season bowhunting.


Pick nice days. Even hard-core hunters don't enjoy hunting in driving rain, hurricane winds or below-freezing temperatures. For beginners, go out of your way to make the first few outings pleasant, or they will form negative first impressions. Spring turkey hunting or early-season bowhunting are great choices, or any day that the weather is fairly mild.


Don't overdo it. She may not be as keen as you to get up at 3:00 a.m. to be in a duck blind or turkey bush before first light. Try late-morning or perhaps afternoon hunts to start. She may not want to spend all day in the field anyway.


Watch and learn. Carrying a gun or bow can add a lot of pressure to a new hunter. Consider having her accompany you a few times just as an observer first. This allows someone new to focus on their surroundings; the lessons to be observed and learned; and the overall experience without having to worry about bagging anything.


No hand-me-downs. Don't try to dress her up in your old, worn-out hunting clothes. Women are simply not built the same as men, and proper fit is an important part of function when it comes to hunting clothing, especially with modern, high-tech fabrics. A number of companies now manufacturer high quality hunting clothing specifically designed for women, so go shopping. It's all part of the fun of getting into something new, and will build excitement and anticipation for the real thing. (Visit Bass Pro Shops' ladies' hunting clothing.)


Go well-armed. Just like hunting clothing, bow and firearm manufacturers are now making products especially designed for women, incorporating lighter weights and shorter lengths. Having the right equipment from the beginning helps beginners develop proper technique. That leads to confidence, which leads to success, which ultimately leads to more enjoyable experiences afield.


Make it about her. Consider leaving your own gun or bow at home the first time, and just focus on making her outing as enjoyable as possible. You'll be amazed at how enjoyable this can be for you too. Let her do any shooting, while you take pictures/video and just be there to share the experience with her.


Compromise. If your favorite female is interested in nature and wildlife, but not enough to pick up a gun or bow, you can still enjoy the outdoors together. She can still accompany you while scouting potential new hunting properties, scouting for game/sign for upcoming hunts, setting out trail cams, hanging tree stands, etc. While she may not be out there with you on the hunt, she will still get to experience much of what you love.
If you follows these tips, you may just gain a new favorite hunting buddy, and don't be surprised if the student may even one day become the teacher.

Good hunting.