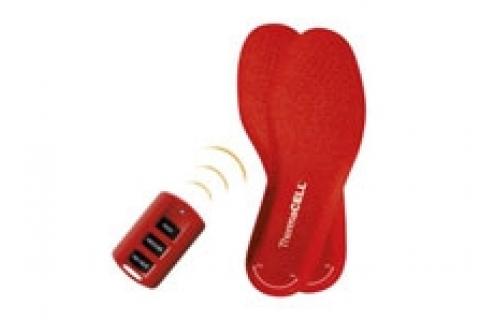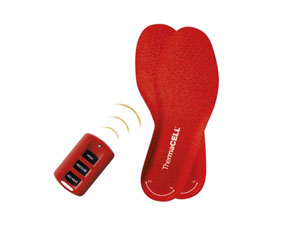 The author likes the feel of the ThermaCELL Heated Rechargeable Insoles.
My family is forever accusing me of being very difficult to shop for (I disagree and tell them that a Bass Pro Shops gift card is always a good choice!), so when my wife asked me for gifts ideas prior to last Christmas, I proudly told her that I had an item on my list that would make a great gift.
I'd recently seen an ad for the ThemaCELL Heated Rechargeable Insoles and was intrigued. Living and hunting in the Great White North (Ontario, Canada, to be exact), cold feet have been a problem for me over the years. I'd tried battery heated socks some years back, but found that the wiring in the toes bothered me, and disconnecting the battery to turn them on/off was a pain. I've also used the various versions of chemical heat packs, and while they work very well, I don't like the idea of a one-use disposable product that constantly needs to be replaced.
These rechargeable insoles, although a bit pricey, sounded like the answer to my problems. So much so that I decided that they would be awfully nice to have for my 2012 late season muzzleloader hunts. I picked up a set just before Christmas. (I couldn't help myself, but I may have incurred my mother-in-law's never-ending wrath in the process!)
As soon as I opened the package I could tell that these insoles are definitely a well-designed and well-built product, wireless remote and all. I charged them up exactly according to the detailed instructions and turned them on. At first they didn't seem very warm, but the packaging warns you that they won't feel very warm in the open air, but once you get them into the small, enclosed space of a hunting boot, things are different (same principle as an emergency candle keeping you warm inside a broken down car).
I tested them on a December muzzleloader hunt in Ohio and I found that they worked quite well. Granted, this wasn't a real cold weather hunt, so I also tried them out a couple weeks later on a late season hunt here at home. The weather was still milder than usual for that time of year, but certainly my feet never got cold. I look forward to using them for coyote hunting this winter and I'm confident that cold feet won't be an issue. Two pieces of advice, however:
Don't expect to be able to wear light boots on a frigid day in the dead of winter and have these insoles keep your feet from getting cold. That's asking too much. But you can wear a lighter sock than you normally would in your usual hunting boots and not worry about your feet freezing while sitting in a treestand for hours.
Don't wait until your feet actually get cold before turning them on. It's too late then. Turn them on at least "Low" at the first sign of a chill.
Good hunting.