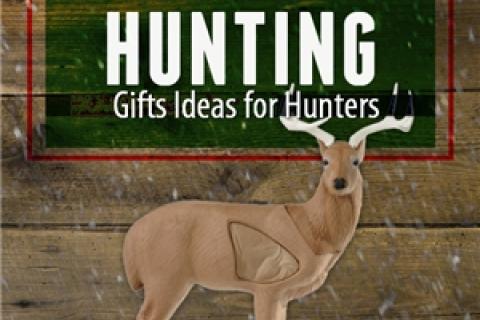 If you have a hunter or three on your Christmas list, count yourself blessed.  At least you'll never find yourself shopping for someone who "has everything."  No hunter ever has enough of the gear, equipment, tools and — yes — toys with which to get the most from every minute in the field.  Here's a rundown of the hottest items of the season your hunters are hankering for.
Cabela's Northern Flight Renegade Series Quick Setup Layout Blind
Give the gift of invisibility to make life easier for goose and duck hunters. This blind is designed for serious waterfowlers who want a low profile in a camouflaged, compact frame. Besides blending flawlessly with the background, the Cabela's Northern Flight Renegade layout blind is rugged, lightweight, and versatile. At its core is a collapsible steel frame.  It deploys in seconds and folds to packable size just as quickly with no nuts, bolts, or pins to lose. Inside, a padded headrest and precisely angled back support offer welcome comfort while waiting for the action. Suggested retail $249.99.
RedHead® Scent Control Bag
If you have a bow hunter on your list, chances are you've had to listen to him or her obsess about scent control.  They may have even brought some highly suspicious odors into the house to prevent their hunting gear from "smelling bad."  RedHead® Scent Control Bag, which measures 32" x 15" x 15", is the perfect first line of defense in controling scent on hunting clothes — and in the house.  This duffel prevents foreign scents from reaching the clothes and also any cover scents on the clothes from reaching the outside world. The bag's lining material is woven with silver.  That's critical to the system because silver weave blocks out foreign odors, and its anti-microbial properties reduce game-spooking human scent.  $59.99. 
 
BlackOut® X300 Ground Blind
Have you seen the excitement in your hunter's eyes or heard it in their voice after eye-to-eye close encounters with game? The gift of a BlackOut® X300 Ground Blind will help them enjoy that experience every time they go hunting. Whether they pursue whitetail, elk, pronghorn, black bear, or turkey this blind is the perfect hide for glassing, waiting and preparing to take the shot.  It offers an unprecedented 300 degrees of visibility to spot game in any direction and the size of the window openings can be customized to the hunter's preferred level of concealment.  A ground blind is also the fastest, safest way to introduce a newcomer to the excitement of hunting. At 90 inches from hub to hub and 6 feet 4 inches tall, the BlackOut X300 offers ample room for two hunters on comfortable chairs positioned side by side or front to back. $279.99.
 
BlackOut® 3D Archery Targets
While hunting seasons only last a few months, practice for hunting is a year-round pursuit.  BlackOut 3D Archery Targets are a gift your hunters will enjoy all year round. These long-lasting targets are precision sized and detailed to create proper practice anywhere it's safe to shoot a bow.  The lifelike 3-D targets come in deer, black bear, turkey, wild boar and coyote models.  They build skill not only in shooting but also in estimating range and being able to pick out a spot and stay calm through the moment of truth. They will withstand thousands of practice shots from bows and crossbows whether tipped with target points or real broadheads.  Arrows remove easily. $129.99 - $219.99.
 
RedHead® Reality Series Battle Zone Mallard Decoys
Duck hunters on your list demand three Rs in their decoys – realism, ruggedness, and reliability. Battle Zone Mallards deliver. Each decoy is hand-painted with authentic, molded feather detail.  Each pack of six comes with multiple natural positions. They are foam-filled to be nearly indestructible and 35 percent lighter than other foam-filled duck decoys.  The finely detailed paint job will last season after season. The lucky recipients of a dozen decoys will remember you fondly every time they look over the beautiful spread on the water! $59.99/half dozen (four drakes, two hens).
 
BlackOut® SS Compound Bow Package
One of the most appreciated gifts under the tree, especially by a new hunter, is a bow.  However, the excitement can be stifled by multiple trips to the archery shop to buy accessories and schedule set up work.  That's why the BlackOut SS Compound Bow Package makes the perfect gift.  With simple customization and sight-in the recipient can do solo, it's ready to go hunting. The foundation of the package is the state-of-the-science bow built in cooperation with BowTech.  It's light – 3.5 pounds, and fast – 335 fps. The 26.5 to 30.5-inch draw length can be adjusted by anyone and without special equipment.  The package includes a 4-pin sight, a Hostage™ arrow rest, a one-piece 5-arrow quiver, a 7-inch stabilizer, an installed BowTech Revolver Dampening System, an installed peep sight, and a bow sling. All that's left to add are the right arrows for draw weight and length. $599.99.
 
Oculus Pro Team HD Binoculars 10x42
How about giving the gift of a hunting essential that will perform like you broke the bank, yet is actually one of the best values you'll find all year long?  That would be the Oculus Pro Team HD Binoculars.  Savvy hunters feel naked in the woods without binoculars and Oculus HDs perform like optics that cost three times as much. High-quality binoculars extend the hunting day to its full legal limits.  They're essential safety tools for positively identifying your target.  And for serious hunters, "good glass" is the only way to precisely judge trophy quality.  If there's any doubt, Oculus® Pro Team HD 10x42 binoculars are backed up by a fully-transferable lifetime warranty. $199.99.
 
BlackOut® Swivel Tripod Chair
You might wonder how exciting of a gift a chair could be for a hunter.  If it's a BlackOut Swivel Tripod Chair the hunter(s) on your list will thank you a thousand times over.  When hunting sharp-eared game from a ground blind or elevated box blind, the squeak of a cheap stool at the wrong moment could ruin an entire hunting season.  It won't happen if your favored hunter is sitting in this chair.  (Of course, the drawback is it's so comfortable, there's always the chance to nod off before the game shows up.)  Precision adjustments allow for sitting on uneven ground. Nothing shows the hunters on your list as much love as a quiet, comfortable place to sit in the woods.  $74.99.
 
RedHead® Soft Side Scoped Shotgun Case
Any deer or turkey hunter's shotgun is a prized possession.  Add a scope to the package and it becomes even more valuable.  Your gift of a RedHead case will help protect that asset during the hunting season and all year round.  Durable, weather resistant, and generously padded, it affords great protection at home, in transport, at the range, and even in the field. It's built to last for season after season.  The case is 53 inches long and built specifically for scope-mounted shotguns.  The exterior pocket on the rear of the case provides a convenient spot to stash ammo and other important accessories. $24.99.
 
API Outdoors® Alumi-Tech Quest Climbing Treestand
If there's one thing a deer hunter can never have enough of, it's treestands.  But this isn't just any ol' treestand.  The state-of-the-art-and-science API Alumi-Tech is big and comfortable with a fully-insulated seat for the all-day hunter.  The patented chain design even has padded armrests adding to overall comfort.  For additional safety, each platform has traction ridges and reinforced closed triangular extrusions that deaden sound and increase strength.  And just like all API stands, it comes with a full-body safety harness with climbing belt and suspension relief strap.  Your beloved hunter(s) will enjoy the API Alumi-Tech's comfort, silence, and performance.  You'll appreciate knowing they are hunting from one of the strongest, safest climbing stands available. $299.99.
 
Bass Pro Shops® Gift Card
A Bass Pro Shops gift card is the perfect gift when your hunter has a specific gear and gadget wish list. Simply provide Bass Pro Shops with the dollar amount you wish to give and select your favorite card design.  Bass Pro Shops will immediately mail a card and free Bass Pro Shops catalog. Bass Pro Shops eGift cards allow you to almost instantly send a gift to your favorite outdoor enthusiast.