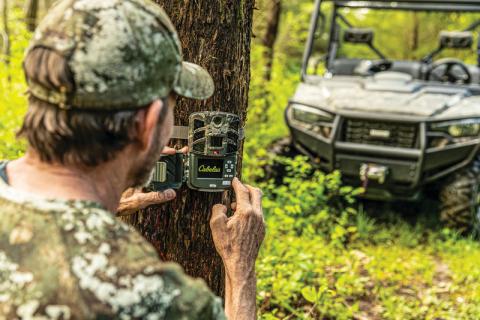 Lance from Safari River Outfitters in Saskatchewan breaks down how his operation relies on Cabela's trail cameras to put hunters in the right situations for deer and bear on more than a half million acres of wilderness. Safari River deploys a range of cameras, both cell and traditional. Lance provides some insight into the benefits and application of various styles and the benefits that Cabela's trail cameras provide to Safari River's operation.
The fundamental difference between tradition and cell cameras is the ability of cell cameras to send photos and videos to you without need to physically check the cameras. This offers a number of advantages, notably speed of delivery and bypassing the need to physically inspect the camera to view activity around it. Cell cameras do, however, require network service to be able to send photos and videos.
Here are some great options for both varieties of game cam.
Cellular Trail Cameras:
This compact, durable game cam offers improves photo and video quality and longer battery life. The Reveal X Gen 2's antenna is finely tuned to provide better service and range. The result: more photos and more videos sent directly to your phone even faster.
The Gen 2 now features a multi-carrier option, compatible with Verizon or AT&T networks, that allows you to set the camera on whichever network provides best service in your area. The camera's set up is easy, just download the app and connect your phone. The camera comes with an antenna, tree strap, and two sim cards (one Verizon and one AT&T). The Tactacam is available in two power options—12 AA batteries or the Bass Pro Shops exclusive rechargeable lithium battery.
Traditional Trail Cameras:
The Cabela's Outfitter Gen 4 Black IR Trail Camera Combo is a versatile, compact offering. Featuring a 2" color LCD display, this game cam is user friendly and allows you to easily scroll through pictures and video in the woods. The camera snaps 48MP photos and captures both 1080p or 720p video. Its Black infrared flash is powered by 48 no glow LEDs—illuminating the woods up to 90 feet away, without scaring game.
The combo comes ready for the woods, complete with the camera, a 6' nylon strap with buckle, 32 GB SD card and 8 AA batteries.