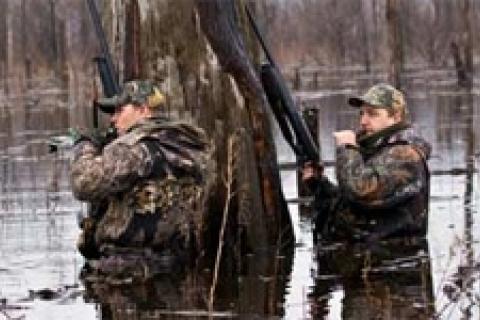 The difference between a serious waterfowler and a casual one can be found not only in skill level but also in the gear they carry afield. And while shotguns, duck calls, boats and decoys get all the glory, most serious duck hunters couldn't function comfortably in those magical places without a good set of waders. In most instances, they're essential to success in the field.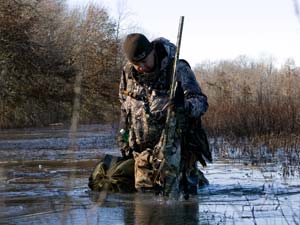 For most waterfowling applications, you're much better off with chest waders than hip or waist-high alternatives.
But what defines a good pair? In the old days, any pair that didn't leak too badly was dignified with that title. Fortunately, we've raised our standards a whole lot since then. As a result, modern hunters now have a wide selection of excellent hunting waders to choose from.


How wide that selection is depends on what you are willing to spend, of course. Quality never comes cheap. But that's not to say that you can't find good deals at moderate prices if you shop with a discerning eye.


In this article, we'll discuss chest waders and avoid hip waders. While they have their uses in some hunting situations, for most waterfowling applications, you're much better off with the former.


Your decision to buy should be influenced by several key qualities that contribute to durability, warmth and camouflage. The tread on the boot is also important since one good slip will negate whatever warmth and dryness your waders initially afforded.


With that in mind, let's examine important features that you should think about.


Wader Durability & Toughness

If I have learned anything in 30-plus years of waterfowling, it is that durability and toughness in my gear is all important. And it's no different when it comes to waders. When you are wading in marshes and beaver ponds in autumn or early winter, the last thing you want is a pair that puncture easily. Water is just too cold that time of year to endure leaks for any length of time. You're there, after all, to enjoy yourself, not to suffer.


Fortunately, these days, manufacturers of hunting waders have come up with ingenious methods and materials that help resist puncture and abrasion.


Most quality waders have puncture-resistant outer layers and reinforced knees — look for these features as well as good quality stitching and seams. Obviously, the more protection on the leg, the better the product. Good reinforcement makes it harder for those pointy beaver-chewed sticks and underwater stumps to ruin your day.


Waders With Good Boots and Insulation
Most serious hunting waders come in boot-foot configuration. This means there's no chance of a boot being suctioned by mud or pried off by sticks when you're wading out to place or collect decoys. Typically, the tread of modern wader boots is appropriate to the conditions that most waterfowlers face. So there's no need to continually change boots as a travelling trout angler might.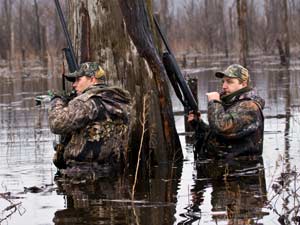 Get a wader with a camo pattern that suits the typical environment in which you hunt.
Keeping your toes warm is key though. That's why you will never go wrong buying a set with well-insulated boots. If you are hunting well into the late season, more insulation means more comfort, which means you won't mind staying out longer. And that little bit of extra time can translate into more successful outings.


Some hunting waders have as much as 1600 grams of Thinsulate in their boots, as well as felt insoles. Generally speaking, however, 600 to 1000 grams is the norm. You pay more for better insulation, but, as I said, this is rarely an expenditure you'll regret on those cold late season hunts.


Most boots are lug soled and very good in the slick conditions that waterfowlers often face. Have a good look though, and don't buy a pair unless you are content that the tread is adequate for the places you hunt. There's no use having waterproof waders if you are going to slip and get soaked during the first few minutes of the hunt.  


If possible, try those waders on at the store, paying special attention to how the boots and pants fit. Walking in waders shouldn't be an awkward or uncertain process — make sure the pair in question provides the flexibility and comfort you need. Remember, too, you'll have hunting clothes on beneath.


Keeping your feet warm isn't the only consideration — it's equally critical to have good insulation in the rest of the wader, too. These days, most are constructed with this in mind. Neoprene is the material that manufacturers now rely on to hold in body heat and, as we all know, the thicker the material, the better the insulation. Most waders come in 3.5 or 5 mm thicknesses. The thicker the material, the higher the cost — you're the only one who can decide if the extra comfort justifies the additional expense.


The Devil is in the Details
You can learn a lot about the quality of any product by examining the little details. When it comes to hunting waders, a thorough inspection takes a few minutes but pays big dividends.


Before deciding on a purchase, a few critical questions need be answered.


Is the stitching well done? What about the taping job at the seams? Do they appear well designed at the joints? Does the overall construction seem durable enough?


Check places where leaks are most likely to occur too. One key place is at the confluence of the legs; another is where the boots are attached. If you have any doubts about the integrity of the product at these points, examine another pair and hope for better. If you can find fault, water will eventually get in.


Inspect the hardware too. Check belt buckles and straps to ensure that they are tough enough for the conditions you are about to subject them to. Imagine yourself using them in cold weather; will they be easy to manipulate and adjust?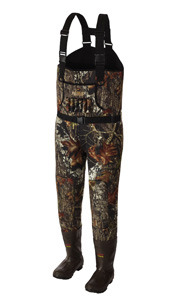 Look for the extras in waders such as pockets.
All things being equal, it's nice to have a few extras too. A hand-warming pocket, for instance, is a very nice option. So too is the looped shell holder that comes on some models. Some waders employ linings that make them even more comfortable and warm. Look for the extras like pockets too and consider if they add value for your purposes.


Lastly, think of how easy or difficult they would be to patch should the need occur. You'll eventually be glad you did.


Choosing Camo Waders

There are so many really good camouflage patterns out there that it's difficult to go wrong.


My advice is to get a wader with a camo pattern that suits the typical environment in which you hunt. Having said that, given a choice between a pattern that works best in a stubble field or in a marsh, I'd choose the former. That's because when hunting in the cattails or river bottoms, a portion of you will be hidden under water or in a duck blind. In field hunts however, especially if you are caught out in the open retrieving birds, directing dogs or adjusting a decoy spread, the camouflage waders provide could make all the difference.


Hunting Waders: Things to Consider

Obviously, there are a lot of things to consider when buying a set of hunting waders, which is why it doesn't hurt to visit web sites or talk to fellow hunters to get their opinions on different brands and models.


In the end, however, it's up to you to weigh and compare all options against a dollar value you are comfortable with. The good news is that there are a lot of great options out there and the overall quality of hunting waders has vastly improved from what it once was. It's just a matter of finding the pair that's right for you.


Decide wisely and understand their limitations and they'll be one of the best waterfowling investments you've ever made.