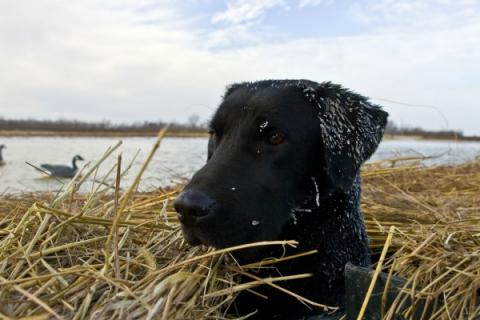 Retrievers are amazing animals. They crash through icy marshes and cornfield snowdrifts without a single complaint.  They'll take everything Mother Nature has to throw at them and still return with their tails wagging.  Due to their cheerful demeanor, we often forget that our four-legged hunting partners aren't always well-suited for frigid temperatures. Hunting dog owners can help their best friend withstand the elements with a few simple procedures.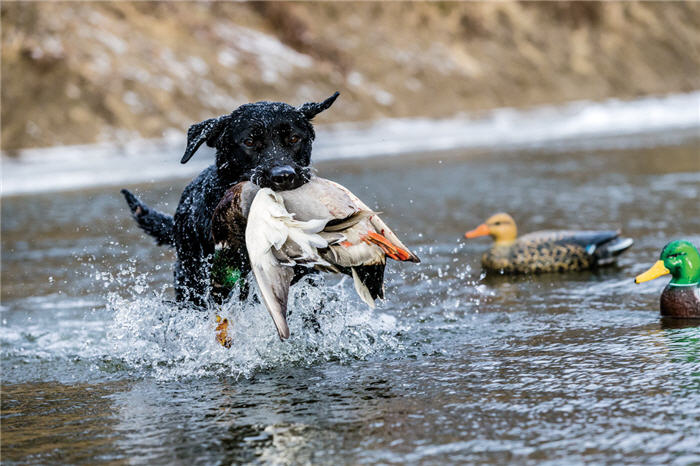 A healthy winter coat and neoprene dog vest allows your retriever to focus on the birds.

1. Kick 'em to the Kennel
Hunters adapt to changing temperatures by putting on layers of clothing and taking them off at will. Fido does not have this luxury. Suddenly exiling your couch potato retriever from the warmth of your home to a freezing duck blind is asking for problems.


Too often gun dog owners think that allowing their dog outside for a time on cold days will give them all the conditioning they need. Not so, according to veterinarians. The conditioning process should begin well before hunting season. Dogs need two to three months of cooler temperatures to acclimate successfully. Keeping your retriever in an outdoor kennel is often the perfect solution. As temperatures drop, your dog will begin to develop a thick undercoat, which is essential to its health.
2. No More Stinkin' Baths
Your retriever companion may become a bit smelly, but you need to begin skipping its regular baths in late August. Don't give pooch another hose-down until the hunting season is over. The dog's oily coat will shed water like the rain gear it is.


Smelly dogs can create problems in a household. If you cave in to giving your dog a bath, make it a light one. Avoid using hot water and soaps. It removes the essential oils that waterproof your dog's coat.
3. Count Canine Calories
Feed your pup the best dog food you can afford. Good nutrition ensures quality coat development, provides energy, and gives the ability to maintain body heat.  A calorie dense diet such as those sold by Royal Canin, Black Gold, and Eukanuba will help maintain a healthy coat and body oils.


Feed your dog the same type of food all year. Simply reduce the quantity during the summer months, double the amount of food for cold weather, and triple it for extreme conditions to maintain balance.
4. Cut the Lights
If you want your retriever to live inside, you must make adjustments for it. Just like their kin, the wild canines, retrievers develop thicker coats as day length shortens. Remember to dim the lights inside your home to mimic this natural occurrence. Make a note on your calendar to begin lowering the light level in mid to late August. Your dog will thank you, and your electric bill will be a little brighter at the end of the month.
5. Invest in a Vest
Even if you've followed all of the tips above, an extra layer never hurts.  Provide your dog with a neoprene vest during cold waterfowl hunts, especially if it is retrieving in frigid water. If you are hunting on dry land and the dog is active, be sure to remove the vest. Retrievers can become quickly overheated, even during cold weather.


Keeping your retriever happy and healthy will ensure many future limits for the both of you.