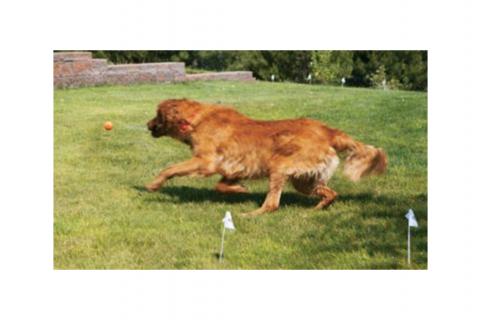 Put an end to your dog's days, and nights, of wandering when you establish the boundary limits with an electronic containment fence.
One of the downsides to owning a dog, especially a hunting breed, is their tendency toward wanderlust. Every breeze that wafts across your property calls out to your dog, "come and investigate." Before the innovation of electronic containment fences your only option was to worry every time the dog was outside, or put it inside an unsightly fence that seem to require constant maintenance.

Electronic containment fences are inexpensive both financially, when compared to traditional options and emotionally if your best buddy gets hit by a car or kills the neighbor's cat. With electronic fences, installation is technically easy and not very demanding physically, especially if you rent a trencher for larger properties or choose a wireless model.

Designs vary with their approach, but basically, you bury a wire around the perimeter you want to limit you pet's activities to, equip the dog with a lightweight collar and train it by using flags to establish a visual association with the boundaries. You can also use the fence to prohibit access to a pool, garden or other problem areas you may have. Once the training is complete, which is fairly brief for most dogs, you can pull the flags and be confident that Fido will be able to resist the urge to stray.

The first decision you need to make, when selecting a unit, is to determine how large an area you want to "fence". The next decision is a wireless or wired model. One more distinguishing feature that separates models is battery types for the dog collar. Basic models use replaceable batteries others use the rechargeable type. Over the long haul, rechargeable batteries are very cost effective. Most rechargeable batteries can be restored in a few hours, but if your dog spends a lot of time outdoors you may want to have a backup collar that can be charged while one is in use.

To address the first issue, units are sized and priced based on their capacity. A basic unit will have enough power to cover half an acre and larger units, with more power, can cover up to 200 acres or more. Wireless models have a more limited reach, but an obvious advantage of not having to bury a wire. However, all units that control large areas utilize a buried wire. If you want to try the concept out in a smaller area, but plan to expand the boundaries, examine a unit's capabilities closely to make sure it will handle the ultimate capacity you anticipate. Adding additional dogs to the system is as simple as purchasing additional receiver collars.

Wireless units have a multi-stage system that escalates through a warning tone, mild static correction and then a maximum, but safe level of deterrence. On most units, the intensity of the last deterrent can be varied to three increasing levels. The distance you can limit a dog to can be predetermined from 15 to 90 feet. Another advantage to this system is the requirement of a progressive signal before the final deterrent. If your dog decides to bust out, they will not receive the deterrent zap when they return, because they are reentering in reverse order. Once they are back within the boundaries, the system is ready to administer the sequence again. When this happens, you'll need to increase the collar's intensity level until you find a strength that works. Dogs are a lot like people. Some are pretty strong willed, but you'll be able to find a level that matches their disposition.

For outside wired barrier systems, installation requires you to bury a small wire 1" to 2" below the earth's surface. Large installations are easily accommodated by renting a trenching machine that digs a trench and covers up the wire in one operation. The depth isn't an absolute, but keep in mind that the depth of the wire will limit its effective signal, and winter snows are a factor. If you bury it too deeply, and get a heavy snow accumulation, your barrier may be impaired or ineffective.

Another problem area for dogs is indoors, and there is an electronic solution for that area as well. The PetSafe Indoor Radio Fence provides a great option for training and limiting a dog's activities inside your house. Simply collar your dog and place the transmitter in the area you want to prohibit access. The distance of restriction is adjustable from a two-foot to 20-foot radius, and can be used to prohibit access to a limited area or a whole section of your home, with proper placement. When the dog approaches the barred area, they will receive a mild but effective correction that will continue until they retreat. This system will also accommodate multiple dogs with the purchase of additional receiver collars.

Electronic containment fences let your dog run free, without the freedom to run away. Once your dog is trained to recognize the boundaries you impose, they'll be happier and you will have the peace of mind that they are not roaming into trouble.