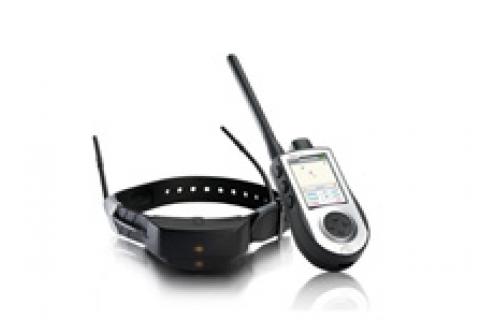 The Tek 1.0 isn't bulky so even on small dogs like mine it fits well and doesn't weigh the dog down.
If you are a hardcore hunter who uses hunting dogs to chase game animals or birds, you have probably heard of or own a GPS tracking device for your dog. In the last few years, several companies have introduced GPS tracking devices for dogs. These tracking units have been a Godsend, largely because the hunter no longer has to worry about the location of their dog. The tracking device does that for them.


When the GPS tracking devices started gaining in popularity, the obvious question was asked by hunters everywhere. When will a company make a GPS tracking device and an E-collar in one? Most hunters who have hunting dogs use E-collars. When you add a GPS tracking device to the mix, the result is one more handheld unit to carry. The dogs end up with two bulky collars around their neck.


The problem has been solved. SportDOG's TEK 1.0 LT Series Tracker & Trainer GPS+E-Collar Dog Training System features a tracking collar and built-in E-collar so hunters can keep track of their dogs and correct them with the same handheld device.


I own turkey hunting dogs that track down wild turkeys for me in the fall. Turkey dogs by their very nature are fast runners. One minute they can be twenty yards away and two minutes later they are half a mile away and chasing a flock of turkeys. With fast, high-strung dogs, a GPS collar is necessary. An E-collar is also necessary because when the dogs are young, they must be taught not to chase deer. Whether you chase turkeys like me, raccoons or bird hunt, a two-in-one unit like the Tek 1.0 is a great tool. 


One of the nicest features of this unit is the fact that I had it out of the box, set up and on my dog in less than a half hour. An hour after the UPS driver dropped off my two dog unit, I had my dogs in the woods testing how well the tracking device and E-collar worked. They both work flawlessly.


Like many E-collars, the Tek 1.0 has almost an endless number of stimulation levels, a vibration mode and a beep mode. I usually use the vibrate button to let my dogs know I am looking for them. Another nice feature of the unit is you can go back and forth between the tracking and training mode quickly and easily. If the collar is in tracking mode and you need to stimulate the dog because it is in a potentially dangerous situation, it will only take a second to get into training mode.


I found the tracking mode and compass easy to read, accurate and fun to watch as the dogs go back and forth in the woods. The dog collars are color coded so knowing which dog was where is easy. The compass is extremely accurate on the handheld device so I can quickly look down as I walk through the woods and know where the dogs are based on the arrows that represent each dog on the compass reading.


Another feature I fell in love with is the fact that the handheld receiver and collars can be recharged so I don't have to buy an endless supply of batteries. All the devices can be charged in a few hours and have a battery life up to 20 hours before they need to be charged again. The battery light indicates when the batteries are getting low so you don't have to worry about the units going dead in the field. I always charge all my devices after a full day of hunting to ensure the next day everything has enough battery life to get me through the day.


Other key feature you may be interested in knowing is the tracking part of the collar can track a dog up to seven miles away in good conditions. You can operate up to 12 dogs on one receiver which is important if you are a mountain lion hunter or coon hunter.


I am very pleased with the Sportdog Tek 1.0 and have complete confidence in its ability to keep track of my dogs and stimulate them when needed. It is user friendly and rugged; two things hunters want and need in the products we use. If you are in the market for a new GPS collar or E-Collar, consider the Sportdog Tek 1.0. I am certain you will likely be as pleased as I am with the unit.


View the Item at BassPro.com
| | |
| --- | --- |
| | SportDOG Brand® TEK 1.0 LT Series Tracker & Trainer GPS+E-Collar Dog Training System |