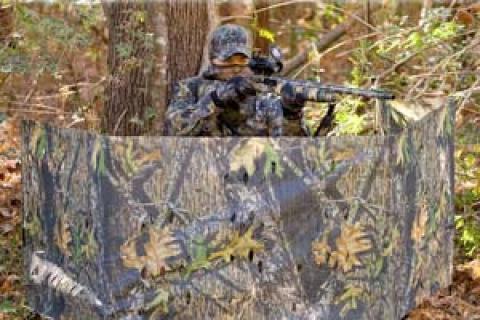 Things are changing in the world of turkey hunting — a sport that's more popular than ever before. Increased popularity has prompted the creation of new products designed to help hunters succeed in the woods. In turkey hunting, no single piece of gear has increased the success rate of hunters like the ground blind.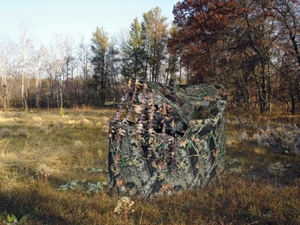 Ground blinds are a great tool when hunting turkey, as many are designed with the turkey hunter in mind.
Over the years, if I'd been hunting from a ground blind, I probably would have an extra fan on the wall and turkey dinner in the freezer. I was often unsuccessful due to the keen eye sight of the weary old gobbler. If you want to learn how to use a ground blind and the advantages they offer turkey hunters, keep reading.


Whether you hunt with a gun or a bow, pop-up blinds are a great tool to use when hunting turkeys. For starters, blinds made today by companies such as RedHead, Primos Hunting and Ameristep are designed with the turkey hunter in mind. Hub-style blinds are easy and quick to set up. They take only seconds to open, put into place and prepare for the hunter to slip inside. If you aren't crazy about lugging a 20-pound blind around with you into the woods, most manufacturers offer a sack that holds the blind, which has shoulder straps so you can haul it into the woods on your back. They also offer small, one-man blinds that weigh a fraction of the larger blinds and conceal one man enough to shoulder a gun or draw a bow without being seen. The smaller blind outlines are easily broken up so weary game won't suspect a thing.


Using a pop-up blind offers many advantages. For instance, it's never fun to sit out in the woods on a cool spring day while it is raining or drizzling. With a pop-up blind, you will most likely stay dry and will be able to hunt longer because you are not uncomfortable and damp. Being wet quickly shortens a day in the field. Pop-up blinds allow you to set up in places you previously wouldn't have been able to.


Open field hunting without a blind is a difficult task. There is nothing to lean up against or break up your outline. Lying on your stomach for hours on end can be a pain in the neck...literally. A blind can be placed in the middle of an open field or on the edge of an open field and you are instantly in business. Unlike deer, turkeys don't pay attention to blinds. In open terrain, I've watched toms walk within inches of my blind strutting for my turkey hen decoy or other hens. They don't pay attention to me as I bring my bow to full draw and send an arrow sailing.


In addition to open farm fields, blinds also work well set up on food plots that turkeys frequent. My favorite set up with a blind is hunting over a smaller plot and setting the blind in the middle of it. This allows me to turn and shoot in any direction; something that would not happen if I was sitting against a tree.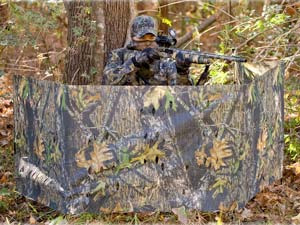 Hunting from a blind allows you to bring extra gear into the woods. Often if I am hunting from a blind, I plan on staying in the blind the majority of the day. When I hunt all day, bringing extra clothes, Turkey calls and food is easily done when hunting from the blind.


Blinds provide you with the ability to videotape your hunts without being seen. If there are two hunters in the blind, one can hunt and the other can film. Hand signals and whispering can occur so the hunter can tell his friend behind the camera where the birds are coming from or signal that he is going to take a shot. Some blinds even offer camera ports that are designed so that the camera lens can sit outside the blind. This allows the camera to capture an unobstructed view of the action. If you are hunting alone and want to tape our own hunt, Pine Ridge Archery is offering the Turkey Pod — a handy tripod-like device that sticks into the ground and holds a video camera. This allows you to point the camera in the direction you believe the tom will be coming from and hunt. Hunters who want to capture their favorite hunting moments on film have discovered there is no better way to do it than from a pop-up blind.


Getting kids involved in the outdoors is becoming more difficult as television and video games take the center stage. Blinds give you the opportunity to take your kids into the woods with you and provide them with some wiggle room; kids do not have to sit still the entire time. I know kids who brought a coloring book or Bass Pro Shops' catalog with them to keep them occupied until it was time for action. Kids can even take a nap in the blind. Either way, being in the blind exposes them to the woods.


A blind is a great way to introduce first-year turkey hunters who are in their early teens to the sport. They can move around and have fun. Hunters can call and keep an eye out for birds, and when the tom gets close, you can give the teen the gun and get them ready for the shot. Kids also hate the pesky bugs that enjoy hanging out in the woods. By limiting the number of windows you have open, you can limit the number of bugs that come into the blind. You can't get rid of all of them, but being in an enclosed area with only a few windows open can reduce the number of skeeters that make it into the blind.


Most blind companies offer shoot through windows that allow bowhunters the ability to keep the windows closed. The shoot through mesh is camouflage and allows little light in, keeping you concealed. Most companies offer blinds that allow 360-degree viewing, eliminating blind spots while hunting.


As you get your calls, turkey vest and gun ready for turkey season, keep in mind that your most important piece of equipment might be a pop-up blind. The biggest obstacle you face is choosing a blind. With so many great options, going to Bass Pro Shops to choose a blind is like sending a kid into a candy store. Chances are you will be there for hours, and when you leave you will probably have a blind and a dozen other new gizmos. Regardless of the blind you choose, you will go home happy. Your spouse might not, but you will!