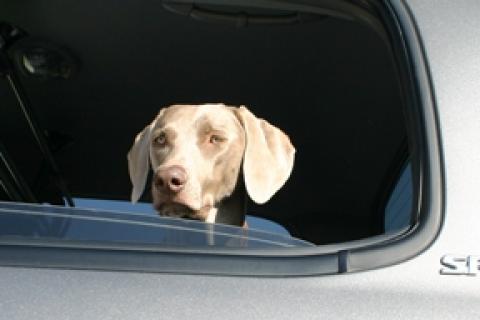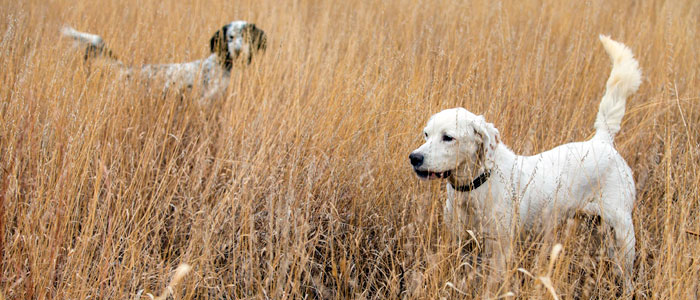 It's a sad yet true fact: many upland and waterfowl hunters meticulously pore over hunting gear in preparation for a hunt, only to load their hunting dog into a kennel in the back of a truck as a last minute thought. Should that loyal hunting dog become injured while afield, however, the hunter is often unprepared to properly and successfully aid man's best friend.  


Hunting dogs are important, and they rely on you. Make every effort to be prepared when medical emergencies arise, or your dog could pay the ultimate price — its life.  


Dangers Afield and Afar  for Hunting Dogs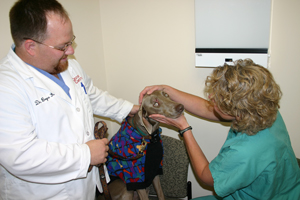 During visits to your dog's veterinary office, ask for copies of the immunization records.
Any time you take your dog hunting, you put it at risk. Highways, water, gunshots, temperatures (hot and cold), snakes, barbed wire, wild animals, moving vehicles, chemicals and other dangers lurk where hunting dogs hunt and go. You need to be prepared and ready to act quickly when a dog-related emergency arises. Much like humans and the 911-Emergency process, you need to be prepared to provide in-the-field and on-the-road first aid to your hunting dog so it lives to reach the emergency room. Your first plan to provide aid should be a well stocked first aid kit.  


The good news is that you can buy or build your own canine first aid kit. The supplies to add are often based on how comfortable you are around blood and wounds, or how comfortable and trusting your dog is in you. First aid kits are designed to be your first line in solving a medical crisis or in caring for simple wounds so they don't progress to something worse. A kennel is one of the safest places for your traveling dog to rest.


It's important to note that moments matter when your dog's life is on the line due to injury. First aid kits offer medical supplies that are often designed to help stop bleeding, keep your dog comfortable, and often work to save a life until an animal hospital can be reached. Be prepared and ready to take action. Carefully study any dog-focused first aid kit to see what it offers, and what you can perform with it. Know your options before you need to use them.  


Should you decide to build — or restock — a canine first aid kit, you can obtain gauze, cleaning solutions, bandages and wraps, some useful canine-friendly medicines, and other basic medical aids at most neighborhood pharmacies. Dogs can generally take Imodium and Pepto Bismol in small quantities. A common wound ointment like Neosporin can help a dog's cuts and scratches heal. If you have questions, however, consult your veterinarian about any digestible medicines to stock and administer. If you don't know, don't give it to a dog.  


While talking with your dog's veterinarian, ask for a printed copy of your dog's up-to-date immunizations and medical records. These will be needed before some offices can see and attend to injured dogs, or before some kennels will board your dog.  


Before departing on any out-of-town hunting trip, you should also do an internet search to find veterinary offices and animal emergency hospitals near locations you'll visit on your hunt. Be sure to print maps, hours and any listed emergency numbers before you depart, and pack this information in the canine first aid kit. It pays to follow the rule of the Boy Scouts: be prepared.  


When you leave home with a hunting dog, you should always pack a leash, drinking water and a bowl. It's important to keep any dog under control and hydrated at all times.  


Rover on the Road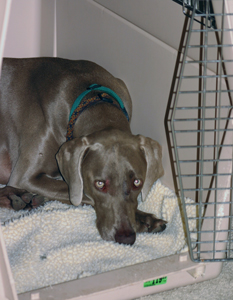 A dog kennel is one of the safest places for your traveling dog to rest.
Road trips are filled with perils — especially for dogs. Many of those possible dangers, however, can be eliminated with an Internet search, which makes locating kennels, hotels and lodges that accept pets and will welcome your hunting dog easy. Make the calls to secure boarding and lodging arrangements before you leave your driveway. Consider printing the directions and contact details for several locations in case your best plans don't work out. And it's important to note that at some locations your dog can stay in the room with you, but at others the dog must be kenneled elsewhere. This can lead to a possible theft — or worse. For motels that permit pets, ask about restrictions and fees. Some advertised "pet friendly" motels draw the line at 35-pound dogs, thus eliminating most hunting dogs. Many motels now also charge an often hidden pet fee.


For road trips, always take a kennel or crate for your dog to stay in. The kennels that fold, or easily disassemble and re-assemble, are easy to move and store.  If you plan to leave any hunting dog in a motel room or the bed of a truck, pack two locks and a coated steel cable to prevent thefts. Lock the kennel door, and then lock the kennel to a motel bed or to the truck. Hunting dog thefts occur more often than you might imagine. The best way to prevent these thefts is to place the crate inside a truck bed with a topper and tinted glass to hide the obvious. Just remember to be on constant vigil about the temperature inside the confined area, especially on sunny days. Heat stroke can quickly overtake a dog. One other warning: check your truck's exhaust. If it is old and rusty, avoid keeping a dog in a covered truck bed or you could turn it into a gas chamber.  


If your dog will ride in a crate or kennel in the truck's bed, consider covering the crate with a kennel jacket. Covered crates also protect dogs from road debris and flying sand or rocks that can easily damage or irritate a dog's eye.  


If your dog will have to spend a day or night in a commercial kennel, ask for and call to check references after interviewing the operator. Once you arrive there, be prepared to fill forms, provide copies of your dog's immunizations, and look for details. Ask to take a tour, including seeing where your dog will be housed. Bugs, foul smells, opened cans of dog food, and dog crates stacked on top of each other with dogs inside are signs of pending problems. You should also ask about kennel cough (Bordetella bronchiseptic) and whether the kennel has had any recent outbreaks.  


Back in that motel room, if your dog is spending the night there with you, lookout for fleas, crickets, and other bugs or spiders. Crickets and some bugs can carry diseases that can quickly make your dog very ill. Motels also rely on sprays and disinfectants to keep rooms clean, and some could be poisonous to your dog. Warning: never let your dog drink out of a toilet or trash can to avoid other harsh or deadly chemicals. Keep the bathroom door closed, the toilet seat lid down, and trash cans up off the floor. A sick dog will quickly ruin any hunting trip, so take precautions.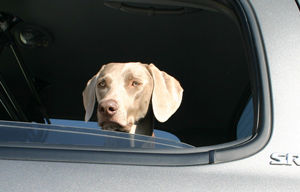 Many hotels and lodges gladly accept pets — and hunting dogs — these days. Do your homework before leaving home so you and Rover have a safe and enjoyable trip.  
 

Pack for your Dog's Comfort  
While packing your favorite shotgun for the hunt, remember also to pack for your dog. Pack along blankets and dog beds, plus other personal gear your dog likes. Also, pack a few towels or disinfecting wipes for cleaning paws or messes.   To help keep your dog healthy, remember to also frequently clean and sanitize kennels and bowls during-and immediately after-any trip. A Clorox wipe will work to clean most kennels. All feeding and watering bowls, however, that touch the ground anywhere (especially at rest stops) should be thoroughly cleaned each day with hot, soapy water. This can be accomplished in the motel room. Your dog will appreciate the extra effort you make to keep him or her healthy.  


Life on the highway can be filled with dangers for hunting dogs, but most can be avoided or anticipated and overcome if you prepare and plan properly.