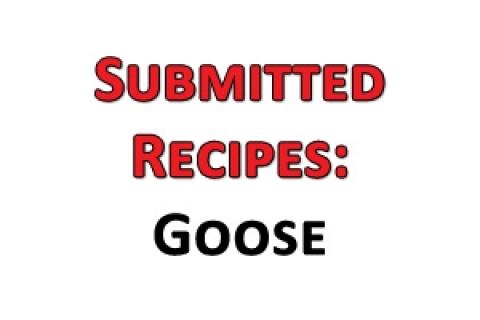 If you have a favorite recipe you'd like to share on Bass Pro 1Source, email it to community@basspro.com. Photos are also welcome!
---
Snow Goose Chili
Posted By: Mark Mazour    
Ingredients
snow goose breasts  
chili fixin's (beans, tomato sauce, tomatoes, spices, onion, peppers, etc.)  
salt  pepper
Directions  
The key to making snow geese taste good is removing all the blood from the meat. Soak the meat for a day or two in the refregerator in a salt water mixture. Change the water frequently. Then take your goose meat and cube it into 1/2- to 3/4-inch cubes. Fry in frying pan with salt and pepper.
Take the meat and place in a crock pot. I'm not gonna get into the chili fixin's here. We all have our own way (and mine is a secret!) Just take what you usually use and throw it in the crock pot. Cook on low for at least six hours and you will have a wonderful feast. I took this to a Superbowl Party and no one knew they were eating snow goose — even the wives! A side hint — if you overdo it and your chili is too spicy, tame it down with a little brown sugar.
---
Slow Cooked Goose
Posted By: Tim Davies
Ingredients
1 or 2 Canada Goose Breast  
1 yellow onion, cut  
6 or 8 cloves of garlic  
salt & pepper to taste
Directions
Fill slow cooker 1/2 full of water; add ingredients. Cook 8 to 10 hours — DON'T UNDER COOK. Makes very good burritos with velveeta cheese and salsa.
---
Goose Stir-Fry
Posted By: Darren Jackson  
Ingredients
1 Goose Breast  
White Vinegar  
Vegetable Oil  
Soy Sauce  Garlic  
2 Celery Stalks  
1 Red Onion  
1 Green Pepper  
1 Red Pepper  
3/4 Cup Sliced Mushrooms  
1/2 Cup Catalina Salad Dressing
Directions  
Cut breast into 1/2 inch cubes and marinade in white vinegar, vegetable oil, a few dashes of soy sauce and minced garlic for a few hours. Stir fry all the vegetables in a bit of oil. When vegetables are starting to get tender, add in the goose, sprinkle with a few dashes of soy sauce and add the Catalina salad dressing. Stir fry just until the goose is barely done (it gets tough really fast if you overcook it). Serve with white rice. You'll love it.
---
Goose or Duck Jerky
Posted By: Marty Sup  
Ingredients
4-5 pounds of meat  
2 tbs teriyaki sauce  
2 tbs black pepper  
2 tbs garlic powder  
2 tbs tabasco sauce  
1 tbs liquid smoke  
1 tbs red pepper  
1 tbs meat tenderizer  
1 tbs Mrs Dash's spicy seasoning  
2 can of hot diced jalapenos
Directions  
Cut 4-5 pounds of meat into 1/4-inch strips and marinade in a glass bowl in the frigde overnight and then dehydrate until the meat is bendable but wull not break.
Makes a great snack in a blind.