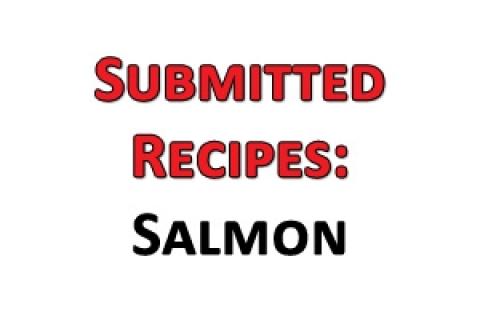 If you have a favorite recipe you'd like to share on Bass Pro 1Source, email it to community@basspro.com. Photos are also welcome!
---
Smoked Fish Soup 
Posted By: Don Boyette
Ingredients
4 smoked fish fillets (blues, salmon, mullet)
2 large sweet onion
1 bulb of fresh garlic
5 large fresh tomatoes
1-20 oz can whole kernel corn
1-12 oz can tomato paste
1-12 oz can of sliced mushrooms
1 tablespoon of salt
black pepper to taste
Directions
Buy smoked fish or smoke on grill for 45 minutes or done to your taste; break into small chunks. Place in 6 quart boiler with ingredients and add 3 qts water.
---
Tuna/Salmon Marinade
Posted By: SHERMN LOVE INGREDIENTS
Boneless/skinless salmon filets or tuna steaks
8 oz Teriyaki sauce
4 tablespoons cherry juice
1 can crushed pineapples w/juice
1 teaspoon lime juice
Directions
Combine all wet ingredients in a 1 gallon sealable baggie, close and shake to mix ingredients. Place salmon filets or tuna steaks in baggie and refrigerate 3 hours to overnight. Place everything except the baggie in a glass baking dish at 325 degrees for approximately 25 minutes. If grilling, use marinade to baste fish. After you taste it, don't, I repeat don't slap your mother.
---
Cedar Planked Salmon
Posted By: Jay Seaberg   
Ingredients
Salmon fillets, skinless  
Olive Oil or flavored oil spray  
Lawry's seasoned salt  
Pepper, preferably freshly ground  
Cedar board (1/4 to 3/8" thick)
Directions  
Prepare the fillets by patting them dry and then drizzling a little oil or spraying with flavored oil. Season to taste on both sides and put into fridge until grill is ready. Prepare grill for dirct heat. When grill is ready, spray one side of the plank with water and apply a little oil to the other side. Place the water-wetted side down and place the fillets on the oiled plank. Cook for 8-10 minutes on one side, then flip the fillets and cook for another 6-8 minutes (depending on thickness). Try to resist opening the grill during cooking. The smoke and heat will seal the fillets and turn them a mahogany color with great flavor. Serve with a simple salad and a good wine. (We have also cooked chicken breasts, butter-flied pork chops, and swordfish this way.)