Florida's Lake Kissimmee is Famous for Top Fishing
At 35,000 acres, Lake Kissimmee is the 3rd largest lake in Florida with a reputation as one of its better lakes for fishing bass and panfish. The anchor of the Kissimmee chain of lakes, it's the most remote of Florida's 10 largest, highly acclaimed bass waters. Over the years, the lake has given up thousands of largemouth bass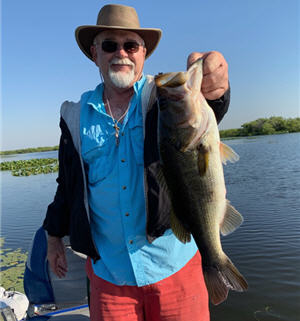 of 10 pounds or more. Until the 1960s, historically high and low water levels occurred every 5 to 7 years, which helped maintain balanced plant communities and a hard sand bottom.
 
Flood control introduced in the late 1960's eliminated the extremes of high and low water, but this accelerated aquatic plant problems, resulting in declining catches of sport fish. Beginning in the 1990's, Florida's Fish and wildlife Commission (FWC) instituted a vegetation management program to restore forage fish populations which will lead to an improved bass resource.
 
Below Lake Kissimmee, the river was straightened and deepened for navigation and the water level is controlled by a series of locks and spillways to Lake Okeechobee. Authorities have begun to implement a long-term plan to restore the river to its original slow, twisting course all the way to Lake Okeechobee.
 
The Kissimmee Chain of Lakes includes Hatchineha, (6,665 acres), Cypress (4,097 acres), Tohopekaliga (18,810 acres) and East Lake Tohopekaliga (11,968 acres). All the lakes, including East Lake, which starts in Orange County, are on the Kissimmee River and can be reached via navigation locks.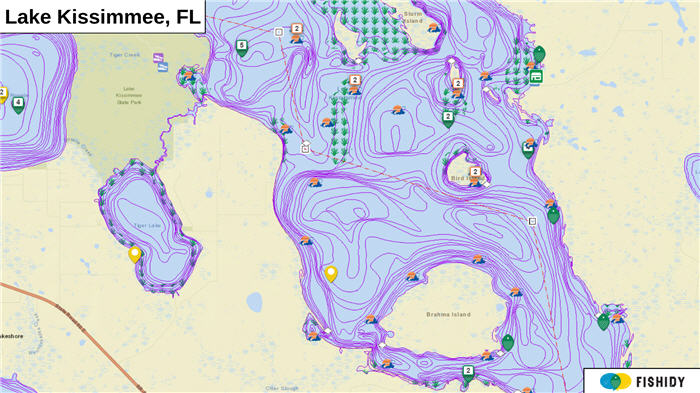 5 Key Strategy Tips for Locating and Catching Fish on Lake Kissimmee:
1. Fishing Baits for Panfish: Two very effective fishing baits on Lake Kissimmee for bluegill and shellcracker are grass shrimp and live worms. A small mesh net scooped through shallow vegetation is an easy way to collect this bait.
 
2. Best Time to Fish: The best time to catch the redear sunfish also known as shellcrackers is during spring when they are found in spawning aggregations. You can get fancy with the fishing tackle, but only simple tackle is needed - a cane pole, a couple of split shot, and a bream hook. Drop the bait through the small openings in the grass and lily pads, lowering it right to the bottom. Repeat.
 
Once fish are located, anchor the boat and keep fishing the same area. If action slows down, restart the search. Bluegill gather in shallow, sandy areas from late spring to early fall to sweep their spawning beds. Fly fishermen also find plenty of bluegill action with popping bugs, especially in early morning and late afternoon. Earthworms, crickets, small spinnerbaits like the Johnson Original Beetle Spin and popping bugs are effective at catching the fish.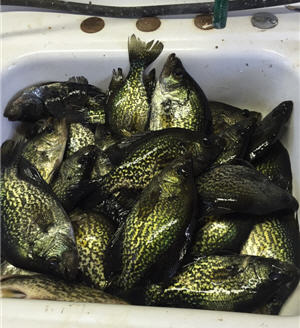 Lake Kissimmee Crappie
3. Fishing for Crappie: During the spring spawn, fish the shoreline vegetation for crappie. Cast small jigs or minnows into sparse grassy areas for the best action. Night fishing also produces large stringers of crappie. Caution is advised for night fishing however, because of the lake's size and lack of landmarks.
 
4. Catching the Big Bass: Concentrations of largemouth bass are often predictable on Lake Kissimmee, and most fishing guides prefer the hot weather because they generally catch bigger bass. During the warmer months, some anglers focus on the south end of the Lake, plus the canals and creeks, since it is easier to establish a fishing pattern in these areas. The bass usually hold up on patches of reeds or eelgrass, points or under fishing docks. North Cove and Philadelphia Point also hold good concentrations of bass.
 
 5. How to Know When Bass are Nearby: The shiners will become excited and frantically struggle to get away. The shiners may head to the surface with the bass following right behind. A nervous shiner also may swim several feet away to avoid a fatal confrontation with a large bass. An observant angler will put the fish bait back in the same area where it was spooked. Keep your shiner in one spot at least 30 minutes to give the predator fish time to locate it and react to its fear and smell.
 
Find even more fishing tips, including an interactive map for Lake Kissimmee, and fishing reports across the state of Florida on Fishidy.