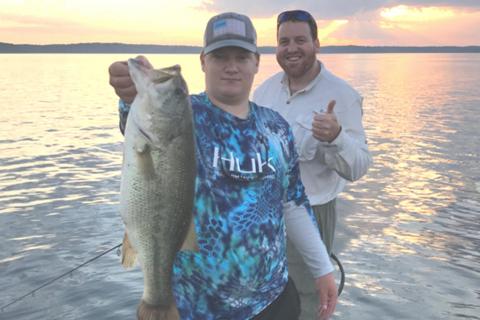 Kentucky Lake is the western boundary of the 270-square mile Land Between the Lakes National Recreation Area. It is recognized as one of the nation's top fishing lakes for largemouth and crappie fisheries. Largemouth in the 8-pound range help make Kentucky Lake one of the nation's top bass waters. How about smallies near 7-pounds? Kentucky Lake has those too. The
placement of secret brush piles by private parties is a Kentucky Lake tradition. Find some of these and get into fish like never before.
Family camping, one of the primary activities by the lake, is accented with nature trails, a living history farm and a new planetarium. But because the lake is on the boundary of Kentucky and Tennessee and the states do not have a reciprocal agreement, make sure you're fishing in the state you have a license for. All federal and state boating and fishing regulations are in effect. Fishery management programs often require revisions in the regulations, so anglers should expect changes in length and creel limits from year to year.
6 Tips for locating and catching fish on Kentucky Lake:
1. Flipping jig n' pig combinations and casting weighted suspending jerkbaits are popular spring presentations. When bass move away from their spawning sites, they hold on secondary points within the coves. During summer spinnerbaits worked over the weeds or drowned wood become a top presentation. Keep in mind an inside weedline may exist during spring and early summer at about 5 feet due to the winter drawdown. This inside edge will hold bass.
2.  For largemouth bass during fall, when the water is dropping, go back to main lake points and cast crankbaits. Bass typically suspend off main lake structure for the majority of the winter season.
3. The east side of the lake holds the highest numbers of smallmouth, although population expansion continues to be seen on the developed west shoreline. On a lake wide basis the stretch from Paris Landing, TN north to the Kentucky Lake Dam offers superb habitat and cover. Concentrate on shoreline gravel, cobble points and drop-offs in depths of 5 to 20 feet.
4. During summer, more big smallmouth are taken at night retrieved along the outside edge of hard-bottomed drop-offs, 10 to 20 feet deep. Try dark-colored Rat-L-Traps. For example: in the Bill Lewis Original Rat-L-Trap hardbait selection or spinnerbaits.
5. Crappie are near visible cover during the spawning period. Often the best spawning banks are those with a sand/gravel bottom, man-made brushpiles and receive the warmth of the afternoon sun. Depthfinder usage is important to locating privately-placed brushpiles that are typically located off of docks and shoreline points. These out-of-the-way locations are often the key to finding active fish, especially during April and May when boat angler competition focuses on visible shoreline cover.
6. During June, channel and blue catfish are in the shallows and usually close to riprap where they spawn. It is during this time of year that many bass anglers catch big cats on jigs, plastic worms and even spinnerbaits. Overall, the preferred catfish baits throughout the year are cut shad and big minnows, although nightcrawlers are recommended during summer. Catfish can be found at nearly any depth. Locating hard, irregular bottom is more important than depth.
Find even more fishing tips, including an interactive map for Kentucky Lake, and fishing reports across the states of Kentucky and Tennessee on Fishidy.