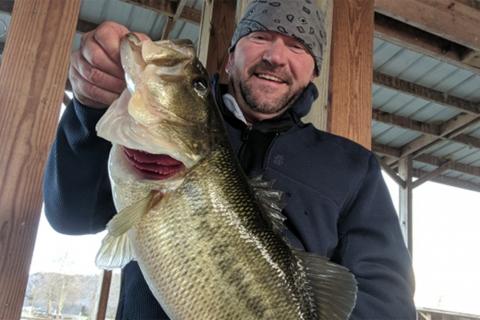 An impoundment of the Tennessee River, Guntersville Lake is known for its large variety fish and abundance of aquatic vegetation. Largemouth Bass are the primary focus on the lake but substantial populations of smallmouth, sauger and catfish can also be found.
This 76-mile long lake, Guntersville is one of Alabama's premier fishing destinations. The lake is full of hydrilla, milfoil and grass, providing gamefish with an abundance of habitat. In combination with the vegetation, the lake is full of submerged stump fields that were left after the forest was cut before flooding occurred.
Due to its robust and diverse fishery, numerous fishing tournaments are held on the lake. There is a tournament almost every weekend, from local clubs to national tournaments. The lake has an extensive buoy system that all boaters should familiarize themselves with. The main river channel is marked with red, green and lighted buoys. Secondary and creek channels are marked with a series of green cans and red nuns. These mark the main channel, where navigation is not impeded by submerged hazards.
6 Tips for locating and catching fish on Guntersville Lake:
1. Largemouth will be found holding in slackwater areas, adjacent the current, waiting for forage to pass by. work these areas with crankbaits, spinnerbaits or topwaters such as Heddon Zara Spooks, Baby Torpedoes, STORM's Chug Bugs like the popular Rattln' Chug Bug or Pop-R's like the Rebel Pop-R.
2. The abundant cover found throughout the lake provides largemouth with prime habitat. Look for areas of hydrilla, milfoil, grass and submerged stump fields.
3. Locate drop-offs and deep holes during the heat of summer and work them with Rat-L-Traps, diving crankbaits like Bass Pro Shops XPS Lazer Eye Deep Diver, jigging spoons or Texas or Carolina-rigged plastic worms. Shad and craw-colored baits work best.
Tip: A Texas rigged soft plastic is very weedless, and is best used in and around any type of cover.
4. Available throughout Guntersville Lake, there are two primary areas that hold catfish. Catfish will be found in the tailrace area of Nickajack Dam and in the deep water just above Guntersville Dam.
5. From February through April, crappie are found bedding in the backwater areas of creeks. They will be found holding in submerged stumps and using the provided cover for spawning.
6. As the water begins to warm in mid-May, crappie move off their beds and be found holding in deeper water throughout summer and fall. Use your Marine Electronics like a depthfinder or fish finder to locate schools of fish and present a minnow, nightcrawler or cricket floated under a slip bobber at the proper depth.
Find even more fishing tips, including an interactive map for Guntersville Lake, and fishing reports across the state of Alabama on Fishidy.com.