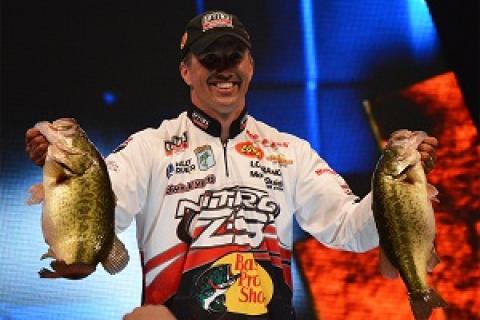 Nirto Boats/Wild River pro Edwin Evers is one of the top pros competing on the Bassmaster Elite Series. After a 2013 season where Evers came up just shy of winning the coveted Angler of the Year title, he was ready to do battle at the 2014 Bassmaster Classic in Birmingham, Alabama.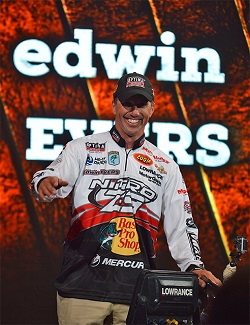 Practice was tough for Evers.
"Practice started out with some very cold weather," said Evers. "It was really tough to start. The first day the water was cold, in the high 30's. I had two bites the entire day.
"On the second day of practice, I caught about a dozen fish using the Megabass Flat Slab. That is the lure I used to catch all of my bass. I caught one about 6 pounds. Historically you need almost 30 pounds each day to win at Guntersville, so I was worried.
"On the next day of practice, I fished shallow and got clued onto a point that was holding bass. Hundreds of them, but nothing much over three pounds. Going into the tournament I was confident I could catch fish. Plus, my area was protected from the weather, so the rain and wind played to my favor."
Edwin's Classic was almost perfect
"My first bite on the first day of the Classic was a 7-pound monster," said Evers. "That propelled me up there. I had a great day. "As the event progressed I knew I was in a good position to win. I took the lead on the second day.
Then on the third day, I went out feeling good. Then there was a 15-minute span that I won't forget. A 6 and two 5's grab my bait, but I didn't get any of them in. I saw each one take it. One of those would've changed the outcome.
"I didn't get the deal done. I caught fish on every spot I fished on the last day, but just came up short. It was a great tournament other than not winning."
Third place in the Big Show of competitive Bass fishing? Not too bad. Not too bad at all!