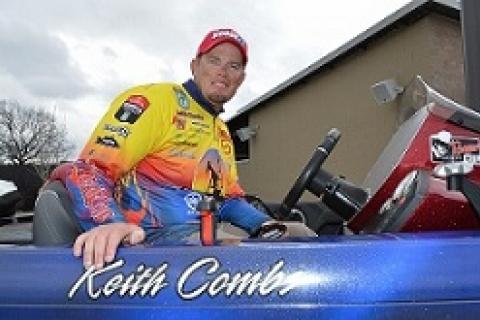 Strike King pro Keith Combs ready for Elite Series combat.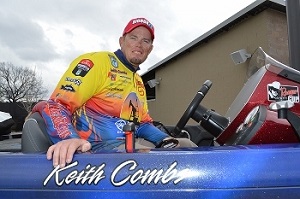 After a fair opening to his 2014 season, a 22nd at the Classic, Minn-Kota pro Keith Combs feels prepared and ready to rock the 2014 Bassmaster Elite Series. Combs 2013 was stellar. He won an event and finished fifth overall in the Angler of the Year (AOY) rankings.
 Coming into this year, Combs' prep has been less intense, focusing more on business than constantly fishing. Though a different tact than years past, he feels he has fished enough to be sharp and stayed focused on the business of fishing to keep his mind primed and ready to return to his 2013 form.
Not much pre-practice fishing for Combs.
"This year, I didn't make a lot of scouting runs to the lakes on the schedule," said Combs. "I only made a few. I went to Seminole because I'd never been there before. Most of the other lakes, well the weather was just too cold for me.
"I really don't fish when I'm doing that anyway. I scout the lake so I know how to get around. Where the launch ramps are. If I can run in certain areas. Where the submerged structure is located. The pre-practice fishing does me no good. Things can change so fast that the only valuable practice is right before the event. However, that didn't work out that way at Classic. I didn't catch a fish anywhere I practiced.
"I also don't like to do too much research on the internet. I end up filling my head with information that may be so dated it is irrelevant."
Very little fishing during the off-season.
"I fished less this winter than I think I ever have as a pro," said Combs. "I didn't do any guiding this winter. Falcon Lake was off and the weather was also very cold. I told my regular clients the fishing wasn't going to be very impressive.
"I'm always chomping-at-the-bit to go fishing in the winter, but this year I just didn't want to go. I filmed a couple of fishing shows and fished a B.A.S.S. Open. I just didn't put together any long stretches of fishing, but I did fish about once per week. I just can't imagine not fishing for months like some guys say they do.
"I also worked a lot for my sponsors and did several outdoor consumer shows. I ended up learning some stuff at the shows this year. It's really cool when you can step back and analyze what people are discussing with you. I try to learn from everything I do. I'm ready for the 2014 Elites to begin."