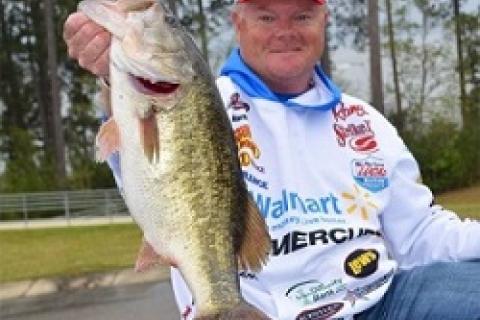 Ranger pro Rick Cotten leads the FLW Tour Sam Rayburn event after Day 1
Tall Cotten
Windy conditions made fishing difficult for the majority of anglers today at the FLW Tour event on Sam Rayburn Reservoir out of Lufkin, TX. Leading the way today was Ranger Boats pro Rick Cotten weighing 25 pounds 15 ounces. Strike King pro Andy Montgomery brought in a limit weighing 24 pounds 11 ounces which was good enough for second after the first day.
Rounding out the Top 5 are Plano/Frabill pro Mark Rose in third bringing in a limit weighing 23 pounds 14 ounces. Grabbing fourth is Ryan Davidson who weighed 21 pounds 6 ounces. Fifth is held by Steve Kennedy with 18 pounds 14 ounces.
Cotten surprised.
"I had a great start today," said Cotton. "I was not on them in practice. I wasn't on the quality of fish I caught today. I lost a 7-pounder at the boat today. I'll go get them tomorrow."
Montgomery didn't crush them.
"It sure looks like I crushed them today," said Montgomery. "I really didn't crush them. I only had 7 or 8 good bites all day. I only had four fish at 2:30. It worked out pretty good at the end of the day for me."
Rose blessed.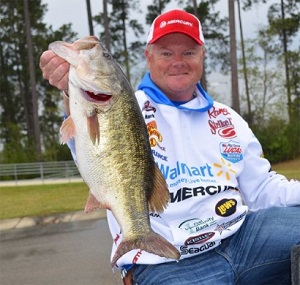 "I had a blessed day today," said Rose. "I caught some good fish today for sure. My 8-year-old daughter always tells me to go catch her a big fish. I was wondering if I could do it today. I did this afternoon with a 7-pounder."
Davidson fished fresh.
"I only ran two areas I fished in practice today," said Davidson. "I have 8 areas like that. After I had 20 pounds, after 10:00 this morning, I fished all new water. Weather isn't going to affect me at all tomorrow."
Top presentations today varied greatly. Everything from Senkos, Carolina-rigged lizards, crankbaits, chatterbaits and even topwaters were mentioned by the pros.
The forecast for tomorrow out of Lufkin, TX calls for potential thunderstorms, possibly severe, but later in the day. Highs expected in the low 80's.