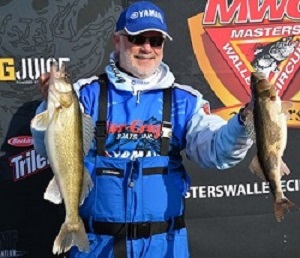 With an Masters Walleye Circuit Championship title under their belts and two Walleye Madness bracket wins, Jeff Koester and Scott Rhodes are no strangers to finding their names at the top of the standings. But an individual tournament victory eluded the talented duo until Spring Valley 2014, when they captured the Berkley sponsored artificial-only win on the Illinois River.
Both skilled anglers, Koester and Rhodes met fishing the pro side of In-Fisherman's PWT back in 2000. They also had fished RCL/FLW tournaments against each other. As their friendship grew, they paired up when the Cabela's MWC moved east and added a number of Great Lakes destinations.


As area manager for Pilkington North America covering the Midwest for auto-glass sales and service, Jeff Koester is also involved in a couple of family-owned and operated businesses, including a marina and boat dealership in Brookville, Indiana. Koester and his wife, Dianna of 24 years, have one daughter in college and another in high school. Jeff's competitive spirit, mixed with a playful side, makes tournament fishing an outlet for fun and camaraderie. One can often glimpse a spark of mischievousness in the marketing business graduate from Ball State University, who continued with a master's degree in finance from Butler University. Like messing with his partner during the prefish week, telling Scott the river was incredibly high and muddy.
"Scott was stuck in Arizona in 80-plus degree weather on business, while we were prefishing in cold weather in the teens," told Koester. "So I had him going that the conditions were likely to produce only two or three fish from the entire field. He was a little surprised when he finally got here to fish on Friday."
Rhodes, also a businessman, heads up the North American division of a tire manufacturer based in Singapore. Over nine years, Scott has grown the sales in the USA and Canada at an incredible pace, putting Omni United on the map. Due to the time zone challenges to Asia, Rhodes works a grueling schedule with many business calls in the wee hours of the morning or late into the evening. Married for 21 years to his wife Lindy, Scott has one son, one daughter and one grandson, age two. A graduate of San Diego State, Rhodes lives in Interlochen, a suburb of Traverse City, Michigan.
"Jeff and I accomplished a lot in those early years," said Rhodes. "But it had been awhile, and we recently restated our goal to win a regular season tournament. When we caught that walleye on Saturday, I had a feeling we were on our way to a win." Cashing checks and finishing in the top ten are all worthy goals, and Koester and Rhodes did their share over 10 years fishing Spring Valley. "We've had a lot of successes, and I'm proud of those," said Scott. "However, at this stage in my business career, my motive is more about getting away from work and spending time fishing with great friends and at dinner in the evenings. But I'm not gonna lie, we're competitive and we drew on that renewed goal."
"It really feels like we have accomplished everything we set out to accomplish in professional fishing," shared Koester. "I'm not saying we're done, but we ticked off everything we set out to accomplish and that feels good."
The previous three MWC wins were on Lake Erie. Perhaps it surprised some to see this big-water duo at the top of a sauger-bite tournament filled with skilled river rats. "This really was a great win," said Koester. "I would have preferred having more of the locals in it, the guys who have historically found ways to win the MWC there."
Rumor has it some of the locals didn't like the idea of an artificial-only tournament. "We were fine with artificial only, it is how we usually fish the Illinois River anyway, so it was no problem." The Koester-Rhodes team beat a field of 84 teams by nearly a two-pound margin. That is a huge differential for the Spring Valley tournament, oft plagued with changing spring conditions. It can be a challenge to compare one year to another, or even one day from another, but the baskets were impressive this year confirming the "artificial only" format, sponsored by Berkley, is viable. "You don't need a minnow, you really don't," added Koester. The winning team caught the largest fish of the tournament on day one, a walleye (not the usual sauger) just an ounce shy of five-pounds. "It doesn't hurt to get lucky and catch one of the few walleyes in the system," added Rhodes.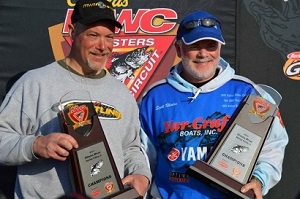 Koester and Rhodes fish within a core group of six anglers who work hard during prefish, to dissect waters and conditions leading up to the tournament. The other four are Ohio anglers: Matt Davis (Marion), Dan Gies (Huron), Travis Hartman (Bellevue) and Shawn Ritchie (Spencer). "Over the years we have fished MWC, the core group has changed from time to time, but we couldn't do tournament fishing without this group," said Koester. "Sharing information and working through ideas makes it fun." Davis and Gies finished in 10th place and Ritchie and Hartman in 43rd place.
"Jeff and Scott bring a lot of experience, maturity and level-headed decision making to the team," said teammate Matt Davis. "Jeff and I fished together for a few days during the week and we pieced together a couple of things that made a difference. All of us are competitors, even with each other, but at the end of the day the friendships and camaraderie of the team are just as important."
Rhodes' sponsors include Yamaha, Yarcraft, Optima Batteries, Church Tackle, Minn Kota, Humminbird and Columbia. Koester's sponsors include Crestliner, Mercury, Optima Batteries, Church Tackle, Minn Kota, Humminbird and Parkside Marine.