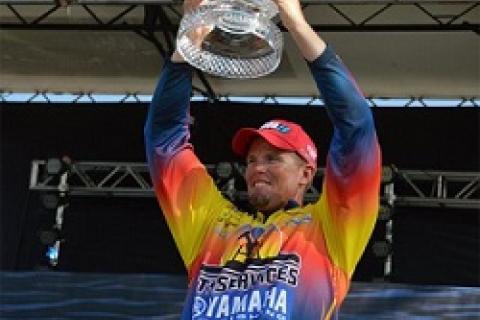 Keith Combs takes home his third TTBC championship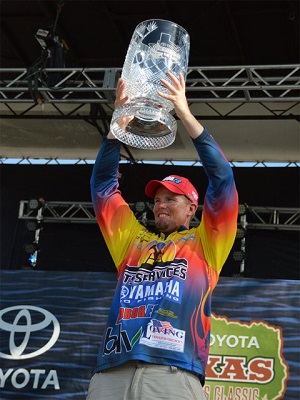 Keith Combs is the undisputed heavyweight bass fishing champion in the state of Texas.


The Strike King pro weighed 110 pounds over three days to defeat a field of 50 of the best bass pros and win his third Toyota Texas Bass Classic (TTBC) title. Combs prowess on Texas lakes during major events is bordering on becoming legendary. His closest competitor was Livingston Lures pro Stetson Blaylock, whose three-day total of 102 pounds, 12 ounces was impressive, but just not enough to take out the juggernaut that is Keith "The Lone Star King" Combs. In third was pro Russ Lane weighing 99 pounds 4 ounces.


Crazy week for Combs
"I'd just as soon have the TTBC every year on Lake Fork," said Combs. "This is an unbelievable place. I catch my biggest bag ever in a tournament and the most pounds ever for a three-day event. Truly unreal. It sure is a testament to how the Texas Parks and Wildlife people have taken care of Lake Fork. Amazing. I didn't want to stop fishing today. I found a school today that blacked out my Humminbird.


"I thought 85 pounds or so would win here, but that is chump change I guess on Lake Fork.


Combs changed up each day
"I fished deep quite a bit," said Combs. "Up to 35 feet. I used a combination of deep-diving Strike King crankbaits and other crankbaits along with the Strike King Shadalicious Swimbait.


"On the first day, I caught my big stringer deep with the crankbaits. On the second day that wasn't working, so I moved shallower and caught them again with a crankbait. Today the crankbait bite wasn't as good. I caught them using the swimbait. The big schools of bass were located on sandy areas, not the locations filled with brush.


"This was truly an amazing tournament."


Blaylock gave it his all
"I caught my fish deep using a Livingston Deep DM 20 and a swimbait," said Blaylock. "It wasn't fast fishing. I'd fish for up to an hour without much, then I'd switch angles and catch fish. It happened today. I switched up and caught a 7-pounder.


"Usually I would expect to win weighing over 100 pounds. I guess not on Lake Fork. I gave it my all. What a crazy week."