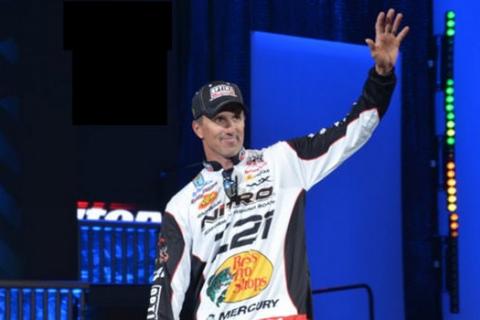 Edwin Evers plays for keeps and losing is never part of the equation, it's just not how he's wired.  Yet at the end of the day, he's a father and a husband, first. Evers sat down with Bass Pro Shops 1Source outdoor writer Jonathan LePera for an exclusive interview and opens up about his journey thus far.


How long have you been with Bass Pro Shops?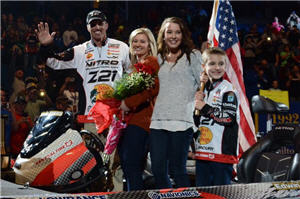 Edwin Evers & Family 

photo courtesy T.J. DeVoe, Pro Fishing Media, LLC


Evers: I started on their State Team in 1996 and with their rods and reels in 1997.  Back then, NITRO/Tracker Marine and Bass Pro Shops were separate companies.  I don't remember what year they merged but I've been with them a long time.  It's the only rod, reel, and line that I have used since 1996.  That's pretty amazing to me!


It says something to your loyalty ...


Evers:I use their stuff every day!  Not only their fishing stuff but their hunting stuff, and I love to hunt so I have all of the RedHead gear.  I couldn't be more thankful to be a part of this company.


It's been a month since your Classic win.  You won the Classic convincingly and kicked the door in on the history of bass fishing by accentuating the point.  How does it feel to be that guy?


Evers: It's been exciting.  Now when I'm travelling, that many more people recognize me and ask for autographs at the events, its unbelievable.  It seeps in a little bit more ever day.  Unfortunately, we had a tournament a week afterwards and I've been so busy that I haven't had time to unwind and think about it!  Every time Dave Mercer announces me to come up on stage as Edwin Evers Bassmaster Classic Champion, it's just something I'm so proud of.  It's truly a dream come true for me.


Talk about growing up and what fishing meant to you and your family.  It's no secret you guys could pretty much clean house on a tournament circuit anytime you wanted to go fish together!


Evers: I would love to go fish team tournaments with them two (my Father-in-Law, and Brother-in-Law Terry Butcher).  Maybe some day when we get old and grey!


I didn't come from a fishing family.  My Mom and Dad, fortunately, would take me fishing but they didn't know anything about it. I got the bug through one of my Dad's mutual friends.  I always dreamed of doing it since I was a kid.  Once I got married 10 years ago, to be part of a fishing family like it is now is fun.  We talk a lot of fishing but not as much as people think.  We've got our kids so involved in their sports.  Generally, the conversations center on sports, pecans, and cows because my brother-in-law is in the cow business.  Sure, we'll talk fishing right before one of our tournaments.  For example, I'll tell him bout my practice at Winyah Bay and we'll talk it through and make sure I wasn't overlooking anything.  It means a lot to us though- it's really something special.  It's neat to bring it back to the community- Talala and Oologah.  Talala is actually putting up a sign "home of the World Champion Edwin Evers"!


Do you think your family understands what it meant for you to win the Classic?  Do you think your kids fully grasped that "WOW!  my Dad is the greatest bass angler on the earth right now!?"

Evers: I think my son is grasping it- I hope so.  I know my daughter and my wife, without a doubt, fully understand.  It was really cool when I got home.  Every Friday morning at the elementary school, they have an assembly and give out the accelerated reading awards.  When I'm home, I always try to get up there because my son always seems to get some award.  But, I didn't know they had made a big 10- or 12-foot sign for me and him congratulating us in front of the elementary school!


What role did Bass Pro Shops gear and NITRO Boats play in your win?


Evers: I've used that gear since 1996 so I'm very comfortable and confident with all of it.  The rods, reels, the fishing line, I know how it is, what it is capable of, and what it can do.  I think it is the best stuff out there.  The same goes with my boat.  If you were ever to stick me in another boat after having been in a NITRO boats all of these years, I'd be lost.  I know when I have to set the hook, I take one and a half steps back and I know exactly where I am on the deck without ever having to look down.  I know how high the deck is in relation to the water and making the perfect flip and keeping my jig an inch off the water to get it to slide in and make a quiet entry.  I love the storage, the fishability, and the live wells.   This NITRO has the absolute best live wells, they're insulated so it keeps that water a lot cooler in the summer time.


What about the talk that NITRO boats aren't good rough water boats?

Evers: It's the best rough water boat there is.  I've been on events on Erie where there were 10- to 15- footers according to the NOAA buoys.  You just can't take one over the bow- they're a bobber!  I was running an 1hr 15 minutes one way in 10- to 12 footers and made it back and won the tournament.  I've had so many tournaments that I've won or done really well in because it floats shallower and I can get into an area that another brand can't get into because my boat floats 1- or 2- inches shallower than another boat. On Table Rock, if your boat floats just a little bit shallower, your going to get over those stumps that much easier going down the bank.  If you get caught up on one stump, it'll distract you and cause you to miss the next cast which could have been a 6-pounder.  It's those little things that people don't think about or realize.


Did you ever find yourself panicking at any point during the Classic or was it shaking out the way you thought it was going to?

Evers: I was pretty upset at myself after the first day on the drive to the BOK center.  It's 91 miles and I'm driving that whole way with 4 fish in my livewell knowing that any fish goes on the bottom line.  Even if it's 1½-pounds to 2-pounds, it takes me from my 14 to 15.5-pounds and 16-pounds would have put me in the 5th to 7th place instead of 13th.  I figured I'd be in 25th place after the first day and lost the Classic and took myself out of contention.  Then after weighing in, I saw that I'm only 7-pounds back and that I still have a chance and not out of it in any shape form or fashion.
 
After the second day, I caught 17-pounds and moved up into 3rd, still at a 6-pound deficit but I was in a whole lot better shape.  I was going upwards when other people were going down.


During Day 3, do you remember there being a moment when you realized you were going make a good go of it?

Evers: It wasn't until the 3rd day when I was culling fish and I'm trying to let this fish go out of my hand, and I'm looking at it and I realized it was a 5-pounder!  I thought to myself, "Are you sure you are right?!"  I went through my livewell two different times trying to make sure that I had the smallest fish.  I said it to the Bassmaster crew that was filming, "we've got a tournament today, I'm not giving it to Jason."  I thought right then and there that I had a chance.
 
On day 3, you elected to fish a spot you had yet to fish during the tournament.  What lead you  back to that place? 

Evers: In practice, I caught two in there that were close to 7-pounds, and I saw two or three others.  But, it's a finicky spot, everyone keeps asking me this and their jaw drops because I never went there the first or second day.  That water is gin clear and those fish are the hardest fish in the lake to catch.  You don't catch them unless you had the day I had on the third day- a little bit of clouds and lots of wind.


How far back were you from the sweet spot?

Evers: They were casts but they were pinpoint casts or super long pitches.  I was by no means flipping, I was staying back.


Your key bait?

Evers: I caught every single one of those fish on an E-Series Andy's Finesse Jig with a Zoom Critter Craw.  The best color was green craw.  What makes that jig so special is that its hand tied with that flat-shaped living rubber and this guy has got it.  I catch them year round on this jig.


What is it about the flat-shaped rubber?

Evers: I think a lot of it has to do with the color which you can't duplicate.  Secondly, the action of it is like no other.


Did it ever wear on you, the conversations that have been going on about you not having won a Classic yet?

Evers: It kind of bothered me.  But, at the same time, I've had a pretty good career that some would kill for.  I thought, if it's going to happen, it's going to happen, and nothing is going to stop it.


Where does your competitive nature come from?  For you to be as competitive and consistent as you've  been, you obviously do not like to lose!

Evers: I hate losing.  I always played sports and one of my favorite sports was track because when I lost- I lost! If I won- I won!  In team sports, I always felt like you always have to rely on your teammates to win no matter how hard I prepared or how hard I worked in practice.  If the other ten guys on the team or the other 4 guys on the court didn't practice and work as hard as I did, we wouldn't have the chances.  I hate losing, I like to win or at least compete well.


How have things changed since you won at the Classic?

Evers: I've been doing all kinds of stuff since I've been home- doing interviews and radio stuff.  I try to knock it down on the road if I can.  There's a lot of added attention to it but nothing that I haven't been accustomed to before.  Working for Bass Pro, we do a lot of stuff like that already, it's not been a big drastic change for me and my family.  I've been pretty busy my whole life, or the last 7 years anyways with sponsors.


You've mentioned you camped up and down that river with your family.  The spot you fished on the last day is a place that is known to your whole family.  Your family was in attendance when you won.  For a Classic win, I don't think it could have been much more intimate of an experience for you since every important person in your life was a part of that win.

Evers: My goodness, that's why the 2013 Classic hurt so bad.  So many people there had never been to any tournaments let alone a Classic.  From Church members, to cousins, to family members and friend, they all said that finally there's a big tournament in Tulsa that they can attend.  Not to do any good there really hurt.  To have everybody there when I won this year, it was just awesome to be able to share it with all those people.  It was especially important to share it with my family who've been part of the limelight, that have supported me all of these years, and sacrificed so much with me being away.  My son and my daughter, not always making all the events that I needed to make because I was on the road, for them to be a part of it was pretty special.