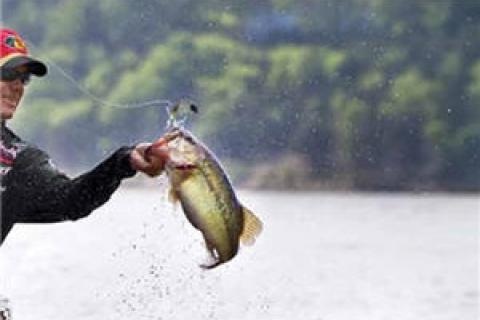 First of all, It's an honor to be part of such a unique website and I look forward to corresponding with people who share the same passion as I do for fishing. My goal in this endeavor is to learn as much as I can from you and hopefully be able to pass on some information that I have retained in the past few years through days of tournament bass fishing.



Tournament fishing requires long hours of practice.
So, what is it about tournament fishing that drives us to get involved in a sport that requires long hours of practice, little sleep, days of travel, fuel money, equipment, maintenance etc. For some, it may be the dream of making fishing a career, for others it may be the competition factor. Whatever the reason may be, we all share one thing in common, determination!


Keeping this in mind, if you have the drive and determination, just how do you get involved? Do you have to have a boat? Do you need to belong to a bass club? Do I need all the best rods and reels on the market? These are some of the questions that we will cover in parts 1 and 2 of this article.


How do you get involved? The easiest step you can take is to check the internet for your local bass clubs. Most bass clubs advertise via the internet, listing a point of contact, club dues and when they meet. Bass clubs are a great way to learn from experienced fisherman. Do not feel intimidated joining a club because of your skill level. You'll find that you will make friends and learn quite a bit.


Do you have to have a bass boat to fish tournaments? Not at all, many tournament trails such as the FLW BFL, offer a non-boater status. This means that you can enter a tournament without a boat and fish off of someone else's. Entering a tournament as a non-boater, typically reduces your entry fee quite a bit but the payout or prize money is also smaller than that of someone who enters a tournament as a boater or pro. If you enter as a non-boater, there are certain things that are required of you by the "boater" or "pro". The boater will have control of the front of the boat at all times. It is also customary to pay half for fuel for the boat. The draw at the beginning of the tournament meeting will determine who you are partnered with. Once this has been determined, it's important to meet with that person to go over the specifics of where you are going to meet before the tournament, exchange phone numbers and work out any other logistics before the event. Bring your equipment and be ready to fish.
In part 2 of A Beginner's Guide To Tournament Fishing, we will discuss the equipment needed to get started as well as basic boat maintenance.

Written by Greg 'Bo' Miller