I fished a bass tournament on Barbee Chain of Lakes in Warsaw, Ind. It was May -- chilly, about 65 degrees and sunny. We set out for a day of bass fishing but soon found things would quickly change. As we were motoring to our spot, which looked like it should hold some fish, I took notice to the several fisherman surrounding one area. I watched as anglers cast these huge crankbaits -- almost as big as the fish I planned on catching that day. I thought to myself, "Wow, ten minutes of throwing those cranks, and I'm done".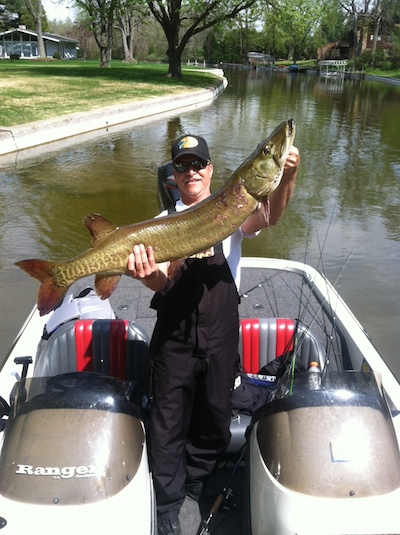 Now I'm not much of a muskie fisherman. In fact, I really don't know anything at all about them, but I've heard the adage, "Muskie are the fish of a thousand cast". Maybe that's why I don't fish for them. I'd rather make ten casts and catch three fish! But I was soon on to something. As we weaved our way to the back of a very long channel, I took my 7-foot medium heavy rod, 8-pound Bonehead Tackle monofilament line and a Bass Pro Shops Stik-O. We were throwing in two feet of water when I noticed what appeared to be a torpedo streaming through the channel.


I casted my Stik-O bait toward the wake and all the sudden, "SLAM". I hooked in to the biggest fish I've ever seen. After about twenty minutes of fighting this huge fish, I landed a 20-pound musky. Well, it wasn't just one. My partner and I caught two, landed one and lost the other. My point being that sometimes you just have to go unconventional. Yes, I may have just gotten lucky: landing my fish with 8-pound line, but I did fight it for quite a while and played it well. Apparently, finesse fishing tactics work for these monsters also!


White seemed to be the color Stick-O on this occasion. We ended up catching only a few bass during this tournament, but catching the musky made the drive all worth while. So the next time you're going out and the lake your fishing has these beast in it, think out of the box and lighten up! Good fishing!


Find more tips on fishing muskie, visit Find The Forage, Find The Muskie at Bass Pro Shops 1Source.