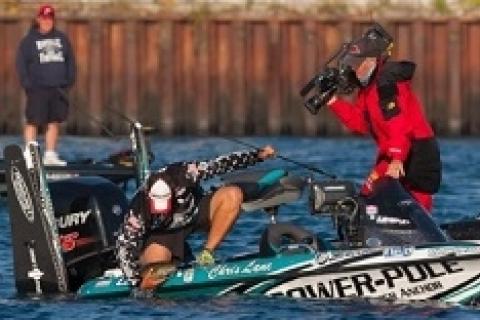 With Bassmaster Classic berths on the line for several Elite Series anglers coming into this final event of the season, the Plano Championship Chase Bassmaster Series event on Lake St. Clair out of Detroit, Michigan was building up to be a very dramatic event. It was.
Former Classic Champ Mercury pro Chris Lane from Guntersville, Alabama took home the title and earned not only $100,000, but also a trip to the Classic on his home lake, Guntersville, with a final weight of 82 pounds 4 ounces. Behind Lane was Skeeter/Yamaha pro Mark Davis from Mount Ida, Arkansas weighing 76 pounds 13 ounces. Davis' finish also secured him a berth to the Classic. Both Lane and Davis were in need of a stellar showing at this event to make it to Guntersville next February.
   
Megabass pro Aaron Martens, winner of the Angler of the Year title Saturday, was in the hunt for victory on Sunday, but had mechanical difficulties that took him out of contention. A bolt came loose on his jackplate making it unsafe to make the treacherous run back to the weigh-in.
 
Lane amazed.
 
"It is just truly, truly amazing," said Lane. "I came into the event shooting for a Top 12 finish. I knew I had to do that to have a chance to make it to the Classic. Starting today, I knew I was in the Classic. I had to change up and go for the win.

 
"At about 12, I knew I had to get going if I wanted to win. There aren't many opportunities to win an Elite Series event against these anglers. I didn't want to be just satisfied making the Classic; I wanted to win."
 
Rough conditions were common.
 
"I feel like I've been run over by every lineman for the Detroit Lions," said Lane. "It was rough out there. There were like nine thousand boats on the water. Seriously, it gets rough out there, but the fishing is so good."
 
Multiple patterns prevailed.
 
"I fished a variety of lures this event," said Lane. "I caught fish on a spinnerbait, tubes, drop-shots, lots of different lures. I fished seawalls, grass flats, breaklines. Wherever the baitfish were, you found the bass. I ran all over."
 
Lane ready for a hometown Classic.
 
"I'm ready for the Classic," said Lane. "The town of Guntersville is ready for the Classic. I can't wait for everybody to see that Guntersville is one of the best bass fishing lakes in the country. All Classic records should be set at that event."