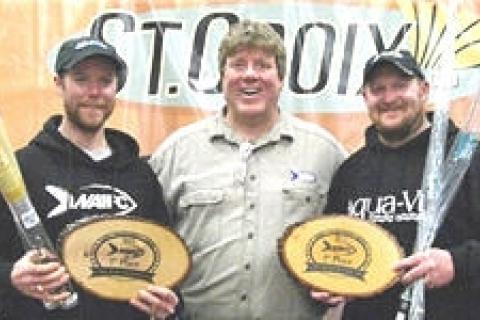 Anglers Credit Underwater Cameras for both NAIFC Championship and Team of the Year Titles

Crosslake, MN - What would you call it if the same angling team won the National Championship, plus another 1st place finish and two 2nds in qualifying events-and the Team of the Year title-all in the same season? Historic? Dominating? Certainly, you'd call it a pretty sweet showing. That's exactly what occurred during the 2012-13 North American Ice Fishing Circuit (NAIFC)-the undisputed "elite series" of competitive ice angling.
Crediting foremost their Aqua-Vu Micro Plus DVR underwater cameras, top Wisconsin anglers Brandon Newby and Ryan Wilson surveyed great expanses of structure at every event to discover exceptional schools of hefty panfish. Their resulting tournament track record speaks for itself.   
Further affirming the fish-finding power of the Micro cameras were colleagues Kevin Fassbind and Nick Smyers, who wielded the same handheld devices to earn a close second place in the Team of the Year title.
At the December Championship on Mille Lacs, Minnesota, a trio of Aqua-Vu teams-Newby / Wilson, Fassbind / Smyers and Shawn Bjonfald / Chris Palmer-devised a radical underwater camera strategy they termed "up-viewing." In order to better detect big bluegills and crappies buried in vegetation, the teams adjusted the lenses on their Micro cameras to aim upward at a 75-degree angle. This slight tweak allowed previously hidden fish to become clearly silhouetted against the bright underside of the ice. It was a brilliant fish-finding ploy that paid major dividends.
At the Lake Maxinkuckee, Indiana event,  Newby and Wilson turned in a dominating performance in tough conditions. They iced 4.65-pounds of panfish, including big fish of the event, a 1-pound crappie. In second once again were fellow Aqua-Vu anglers, Fassbind and Smyers, who weighed a respectable 1.9-pounds.
Then at the March 10 Chisago Lake qualifying event near Minnesota's Twin Cities, Newby and Wilson made a critical discovery that yielded precious extra ounces. "We scouted for three days and drilled close to a thousand holes in prefishing," said Newby. "The lake was just loaded with cookie-cutter 7-inch sunfish. But we realized that the pumpkinseeds (a brightly colored sunfish species) were a little fatter than bluegills of the same length.
"The Aqua-Vu Micro camera helped us find and focus specifically on the heavier 'seeds. This was key to our success." Newby added that the pumpkinseeds stuck close to bottom, while bluegills suspended slightly above them and crappies hovered higher still-diminutive details that helped them put the right fish on the ice.
Success, however, came with a price.
Even during the December Championship, Newby realized that fellow competitors were watching them closely, often following them to their spots. Consequently, the three Aqua-Vu teams developed a stealthy strategy for finding fish without clueing in the competition.
In prefishing, the teams rarely wet lines. Instead, they drilled holes and deployed the Aqua-Vu-one angler wielded the Micro camera, while the other brandished a Milwaukee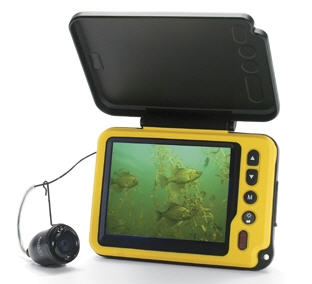 electric drill and a 4-inch bit. Each of the three teams set off in different directions, systematically drilling and checking holes for fish and other clues, such as vegetation. They called the strategy 'ice trolling.'
 
"When we find fish with the camera," said Newby, "we don't gesture excitedly or do anything conspicuous others might notice. We try to keep our body language calm, almost like we're bored. We use a secret code of hand signals to communicate messages, such as '7 crappies here,' 'big bluegills,' or 'mother lode.'
"When we find a sweet spot, we signal each other, drop a waypoint and get the heck out dodge. With the camera, we save so much time in prefishing by not having to break out the St. Croixs and little jigs. The Aqua-Vu tells us everything we need to know-fish size, species and position. Often, we can even determine by looking at them whether they'll be easy or tough to catch."
Newby noticed that throughout the season, anglers increasingly caught on to the fish-finding advantages of the Micro cameras, and started employing the little devices in competition.
"They're so portable and efficient. Just throw one in your pocket and go. Its internal lithium-ion battery never runs out of juice during a long day on the ice. And the tiny camera head doesn't spook fish-in fact, it sometimes attracts bigger panfish to come over and investigate."
In several events this season, Newby stated that he and Wilson used the camera to follow schools of moving fish. When a school would disappear, the anglers would drill around their position in a circle and get back on fish fast. Often, too, the night before the tournament, they'd quickly go out and recheck their spots, to determine if fish were still present or whether they'd shifted locations.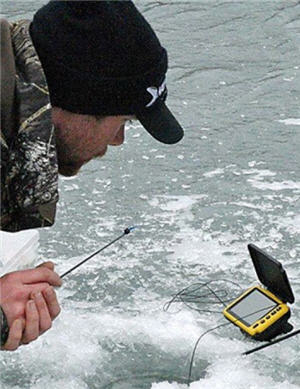 "The Micro has changed the way we scout for spots on the ice. And in a tough bite, we use it to sight-fish. We'll even record spots with the DVR and study them the night before the tournament. Whether we're fishing for fun or in competition, the camera is our number-one weapon."
For more details on the North American Ice Fishing Circuit, including full tournament coverage, visit their website, www.naifc.com.
The Original Underwater Viewing System, Aqua-Vu is manufactured by Outdoors Insight, Inc., and has led the underwater camera category in design, innovation and quality since 1997. They were also the first with on-screen displays of water temp, depth and camera direction, LCD monitor, IR and LED light systems, DVRs and now Digital Zoom. The Central Minnesota based company builds other popular outdoors products as well, such as the iBall Trailer Hitch Camera (iballhitchcam.com) and Odor Check Moisture and Odor Control System (odorcheck.com). For more information on Aqua-Vu, visit www.aquavu.com.