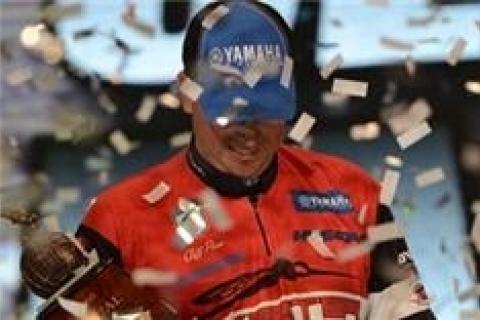 Petal, Mississippi's Cliff Pace is the 2013 Bassmaster Classic Champion. He achieved this lofty goal handily despite experiencing what he described as his 'hardest day of fishing in his life'. While Brandon Palaniuk gave chase and came close bringing in a 5-fish limit weighing 15-pounds and 4-ounces, Pace's four fish weighing 11-pounds 8-ounces were enough to secure a 3-day total of 54-pounds 12-ounces besting Palaniuk by 3-pounds 4-ounces.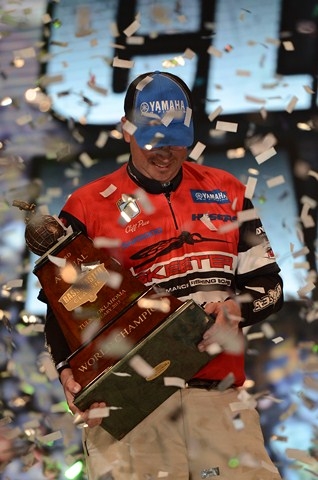 Cliff Pace, 2013 Bassmaster Classic winner.     Photo by: BassFIRST
In third was Hank Cherry with 49 pounds and fourth went to Mike Iaconelli with 48-pounds 5-ounces.

Pace had a Quick Start

"Things started off well pretty early," said Pace. "I got two fish early on. Then it really slowed down for me. I went 6 hours without a bite. Today had to be the hardest day of fishing in my life.

"I moved to another spot and settled down. I threw my V&M football jig and managed to catch two more.

"I don't know what to say. This is a life changing event for me. It is a real gift."


Palaniuk Fell Short

"I had a whirlwind of emotions," said Palaniuk. I caught them early today and felt pretty confident, but toward the end of the day things slowed down and I just wasn't sure if I had enough.

"I caught them on various lures, but today I switched to a Wiggle Wart in Ghost Phantom Craw. I was banging them off a little rock ledge. That's been the deal. It was a little sweet spot."

Cherry Lost Potential Winners

"It hurt bad losing a couple of good fish," said Cherry. "I struggled all day. The wind picked up and I caught fish. I pulled into one spot and hook a good fish and lost it at the boat. I lost another fish that was about 5 pounds, too. That cost me."

Ike Okay
"This sport is my passion," said Iaconelli. "I love it. It's been my dream since I was little to be doing this. This is my 14th Classic. It is a good thing to start the season this way.

Ike used two approaches.

"I fished two ways," said Iaconelli. "I fished power and finesse. I used a Rapala Husky Jerk and a new bait, the Scatter Rap. That Scatter Rap really hunts the fish. I also used a finesse jig with a Havoc Beat Shad when they wanted that approach."

By Dave Landahl, Outdoors First Media