Over the years, Canadian smallmouth ace Derek Strub has tricked a monster smallmouth or two into the boat under the toughest of conditions.  Enter the soft-plastic jerkbait.  "It's a good bait for catching fish that don't want to bite and is much more than a finesse bait than people realize," he said.
Key Conditions
"I love this technique because it is so interactive- its about watching the fish and triggering the bite just me and the fish," Strub said.  "Post spawn, through the dog days of summer, and into the fall, especially once the water slick water slicks off, you have to have it on!  The fall bite can be awesome too!"  Sometimes smallmouth will become conditioned to a bait after watching a bunch of their buddies get caught on a spinnerbait or a jerkbait, the soft-plastic jerkbait is the missing piece of the puzzle.  "I use it to finesse once I have gotten through the easy baits."
Tip: Strub will target cast the bait in 3- to 8- feet of water over structure, like chara grass, rocks, or weed lines, that is mixed in amongst sand.  "You can't throw a tube because there is too much vegetation for it to get fouled up in once it hits the bottom," he said.  Finding those weed patches on Lake St. Clair is key as it is devoid of cover, like rocks where vegetation then becomes extremely important, unlike the Western basin of Erie joined to her by the Detroit River.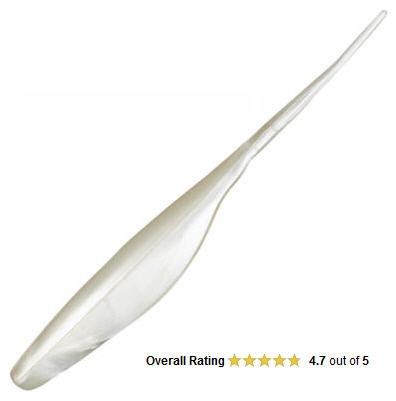 Working the Bait
Strub will work a white soft-plastic jerkbait with the rod tip down working a unique cadence that will make the bait dance side-to-side and glide.  "I like to cast it out, count to three, then work it with a twitch-twitch-twitch-twitch cadence before working it again and eventually letting it glide down," Strub said. 
Tip: If any fish were following it, then they'll just grab it on the glide.  If nothing, he'll twitch it 3-4 times fairly aggressively before eventually slowing it down to a twitch-glide cadence. "For the bait to glide properly you must work the bait on slack line, much like you would a jerkbait to get that perfect erratic side-to-side action only a fluke will glide in a similar motion," he explained.
Rigging Logic
The single most important element of fishing a soft-plastic jerkbait is to rig it perfectly or it will not twitch side-to-side evenly which triggers the bite.  "I like to insert the hook and exit and 1/8 to a 1/4.  If you rig it further back, it will pop up and jump out of the water," Strub said.
Tip: He favors 1/16th-ounce keel weighted wide-gap swimbait fish hooks that are 5/0 and made of lighter wire.  He has rigged the bait with an unweight hook and a 1/16 to 1/32-ounce bullet sinkers against the head of the bait but appreciates the convenience of the keel weighted hook.  
Tackle Talk
Strub works the bait on both a spinning and bait casting rod.  He favors a Shimano Stradic CI4+ 3000 series or Shimano Chronarch Ci4+ reel spooled with 10- to 15- pound Power Pro braided line while running a 5-foot leader of Bass Pro Shops XPS fluorocarbon.  A medium-action Shimano Crucial ranging in length from 6'6 to 6'10 is perfect as the soft tip allows for longer casts.
Setting the Hook
"Let them turn with the bait then sweep set into them," Strub started.  "With a 5/0 wide-gap hook, not only does the hook come through the plastic clean on the hook-set, they aren't coming off."