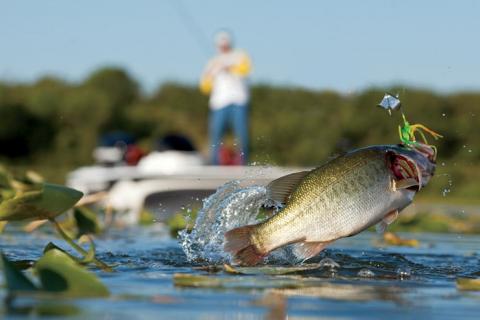 Watching a largemouth bass explode on a buzzbait spitting along the surface is downright awesome.  Sometimes they'll just slurp it down and other times all they'll hit it with is reckless abandon.
Timing is Key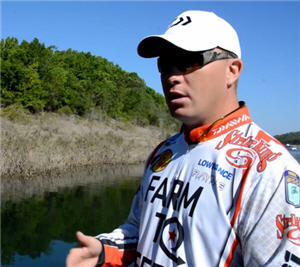 Bassmaster Elite Pro, Andy Montgomery has a 3/8-ounce Strike King Sugar Buzz buzzbait tied on during the spring and fall of the year.
During the spring, loud buzzbaits like the Bass Pro Shops Lazer Eye Pro Series work best as Montgomery is more target oriented.  "We're fishing the places that fish would actually think about spawning like coves and pockets.  I'm looking for targets, stumps, lay downs, dock posts," Montgomery started.  "There again, it's going to be in a big bay, a pocket, a cove, where a fish is likely to spawn on." 
The key to fishing a buzzbait effectively is that while a straight retrieve will most often work, when fishing precise targets, Montgomery stresses that it's important to make contact with the cover you are fishing and maintain the same speed.
The height of the buzzbait bite is during the post-spawn and when water temps hit the high 50's.
In the fall, Montgomery wants to cover water.  "I'm fishing my buzzbaits on flats and points that don't drop off quickly.  I'm trying to make the longest casts possible and cover water with it," he said.  As fish will be feeding up for winter on bait, he'll be throwing shad oriented colors like white and blue glimmer.
Buzzbait Trickery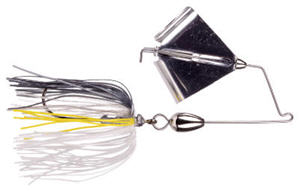 In the springtime, Montgomery prefers a bulkier bait that he can fish slow and keep it on top of the water at lower speeds around hard targets.  Come fall, he'll trim the skirt just behind the bend of the hook as he's zipping the bait along at a fairly good speed. 
When it comes to fishing a trailer hook, Montgomery isn't such a fan finding that his landing percentage is higher when he doesn't have a stinger hook rigged up. "Sometimes I think the trailer hook keeps the bait from going inside the fishes mouth, he said.
Due to the free-swinging hook design of the Strike King Sugar Buzz, once Montgomery hooks up, the fish has no leverage to throw the bait.
Getting Hooked Up
While some anglers struggle to hook those fish that erupt on their topwater baits, like buzzbaits, years of practice and patience has taught Montgomery to subconsciously delay setting the hook once a fish erupts on his lure.  This allows the fish to fully engulf the bait.
During the spring of the year when the water is dirty, he prefers a red buzzbait but black reigns supreme with white a close second under most conditions.  While he likes a silver blade 90% of the time, black gives him confidence during the spring. 
While it might seem heavy-handed, Montgomery prefers a 7'2'' heavy-action Daiwa Tatula bait casting rod with a Daiwa Tatula CT High Speed reel with an 8:1 retrieve and spooled with 25-pound Daiwa fluorocarbon. He prefers the heavier rod for its fast tip and strong back bone allowing him to drive the hooks home especially with extremely long casts.