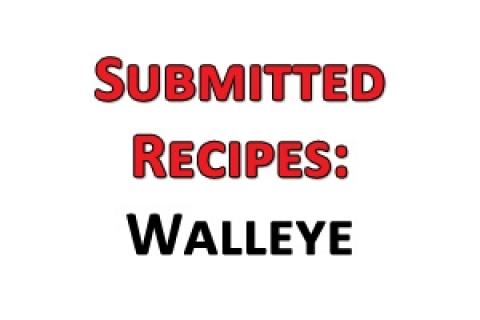 If you have a favorite recipe you'd like to share on Bass Pro 1Source, email it to community@basspro.com. Photos are also welcome!
---
Simple Fish on the Grill 
Posted By: Gary Makely
Ingredients
2-3 lbs. Fish Filets (skin on)
1/2 cup vegetable oil
Sauce (recipe below)
Sauce:
1 cup Ketchup
1 Cup Hot Sauce (Durkee's extra hot is my favorite)
1/2 Cup Vinegar (White for less vinegar taste, Apple Cider for more)
1/2 cup water
Directions
If using a gas grill, preheat the grill. Brush the grill with oil to minimized sticking.
Place the filets on the grill skin side down, and brush the filets with sauce. After 2-5 minutes (depending on the thickness of the filets) turn the filets and brush with sauce again. Wait 2-3 minutes, turn and sauce the filets one more time, salt and pepper to taste and cook until done.
---
Rochette Walleye 
Posted By: Daniel Rochette
Ingredients
8 6" walleye fillets
Pastene Italian flavored bread crumbs
Seasoned salt
Garlic powder
Lemon pepper
1 egg
1 cup milk
Directions
Mix egg and milk together, add your fillets to mixture (egg milk), then put fillets in bread crumbs. Deep fry until golden brown. Remove from deep fryer then add seasonings immediately (seasoned salt, garlic powder, lemon pepper) to your taste. Enjoy!!!
Note: This can be eaten cold (very good snack)
---
Italian Walleye With Pasta 
Posted By: rick hotchkiss
Ingredients
walleye fillets (4-6)
Italian bread crumbs flour
several eggs
parmesan cheese
salt
Directions
Start by making pasta (spaghetti our favorite) drain and set aside. mix 4 parts bread crumbs to 1 part flour, season with parmesan and salt/pepper. double dip fillets in eggs and flour/bread crumb mix fry in skillet w/olive oil/butter till golden brown at same time sauté peppers and onions.